How to Become a Detective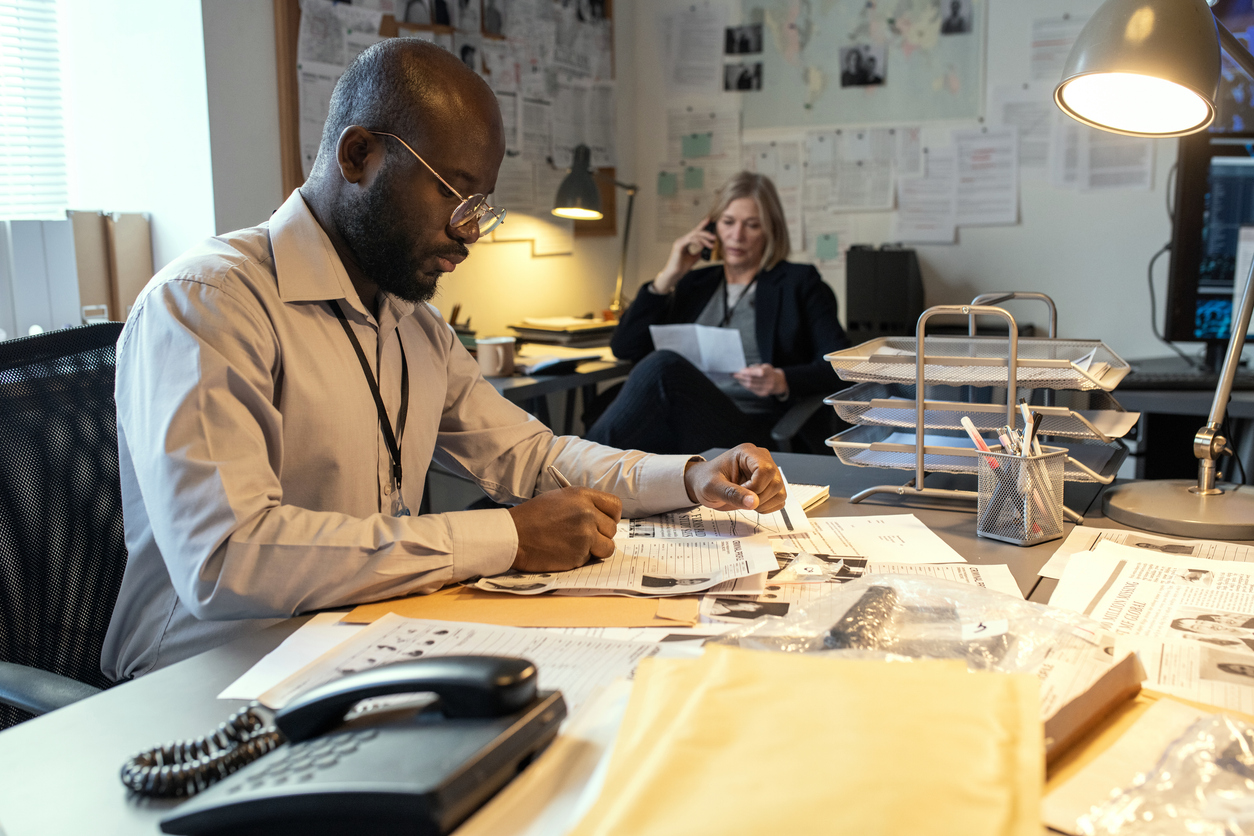 How to Become a Detective ¶
Detectives play an integral role in keeping society safe by solving crimes. They are investigators who obtain information that is usually not available to the general public, then use that information to determine the nature of a crime and who is responsible. While most detectives work for law enforcement agencies at the local, state or federal level, others may work independently as private investigators.
Part of learning how to become a detective involves exploring what these professionals do, how they spend their days and even how much they earn on average. A career as a detective can be fascinating and fulfilling, but it requires the right education, long hours and perseverance.
What Does a Detective Do? ¶
Detectives spend their days gathering evidence that can be used to solve crimes or answer questions. While some of this evidence may come directly from crime scenes, detectives also speak to witnesses, utilize confidential informants and search records in databases. There are several types of detectives, and each one has slightly different day-to-day duties.
Homicide detectives investigate murders. They collect evidence at crime scenes, interview witnesses, take photos and videos, and use clues and critical thinking to solve cases.
Police detectives investigate other crimes, which may include arson, theft and robbery. In some cases, police detectives may work alongside homicide detectives to help solve cases.
Forensic detectives study forensic evidence, including DNA, to determine how and when a crime occurred. They use scientific testing and experimentation to recreate the events of crimes.
Cybercrime detectives may also be known as computer forensic investigators, and they use their extensive knowledge to solve computer-related crimes like copyright infringement and hacking.
Narcotics detectives are responsible for investigating illegal drugs with the hope of shutting down black markets and drug crime rings.
Missing persons detectives collect evidence related to the disappearance of one or more people in an effort to locate them.
Fraud detectives are responsible for using their investigative skills to determine whether fraud has occurred and who is responsible.
Private detectives, or private investigators, work outside of law enforcement. They may use surveillance, background checks and more to help their clients learn more about people or organizations.
Steps to Become a Detective ¶
Specific requirements for becoming a detective vary from one law enforcement agency to the next, but most agencies focus on experience and performance as well as education and certifications. In most cases, candidates must have at least a high school diploma to work as a detective, but one of several types of criminal justice degrees may make candidates more attractive.
Work as a Police Officer ¶
For many candidates, the first step in learning how to become a detective involves attending their local or state police academy and following this with on-the-job police training. Though requirements for working as a police officer vary, most areas require candidates to be at least 21 years old with a high school diploma. Individuals must pass a background check and drug screen, and they must also pass a rigorous physical exam.
Earn a Bachelor's Degree ¶
While local police departments require only a high school diploma to work as an officer, state and federal agencies often require at least a bachelor's degree in criminal justice. Coursework includes forensics, basic psychology, criminology, corrections, criminal justice ethics, security and policy administration, and more.
Work in a Criminal Justice Role ¶
Earning a bachelor's degree can open the door to new roles in criminal justice, including entry-level detective positions at the local level. Some aspiring detectives work in roles that are closely related to their field of choice, such as immigration officer, corrections officer and even probation officer. Some candidates go on to work as private investigators after earning their bachelor's degree.
Earn a Master's Degree ¶
A master's degree in criminal justice is ideal for individuals who want to work in high-profile or administrative careers. This degree prepares candidates for jobs as senior fraud investigators, cybercrime analysts and all manner of detectives. A master's degree can also open the door to several high-paying roles such as federal agent, U.S. Marshal and Secret Service agent.
Obtain Licensure ¶
Individuals who plan to work as private detectives or investigators must obtain licensure in their state. Most states have licensing and bond requirements for private investigators. Candidates must apply for licensure through their respective Department of State.
Detective Salary and Job Outlook ¶
Police officers and detectives earned a median annual salary of about $66,000 per year as of May 2021, according to the U.S. Bureau of Labor Statistics (BLS). Employment within these roles is expected to climb by about 3% in the years between 2021 and 2031. Increased public safety will drive the demand for new detectives, but actual job creation leans heavily on local budgets.
The BLS reports that as of May 2021, private detectives and investigators earned an average annual salary of $59,400. Employment of private detectives is expected to climb by about 6% in the years between 2021 and 2031, which is about average for all occupations in the United States. Most private detectives will investigate fraud and interpersonal mistrust, which is expected to drive demand in the coming years.
Earn Your Degree and Keep Your Community Safe ¶
Learning how to become a detective is just the first step toward a new career in law enforcement or private investigation. The online Master of Science in Criminal Justice Administration program from Hilbert College Global builds on candidates' existing knowledge of the criminal justice system. It provides advanced understanding of areas like ethics, research and even leadership to prepare you for your high-profile career as a detective or investigator. Learn more about the benefits of earning a master's degree in criminal justice administration.
Recommended Readings
6 Criminal Justice Career Fields for Graduates
Types of Criminal Justice Degrees: BA vs. BS
What Can You Do With a Criminal Justice Degree?
Sources:
Harbor Compliance, Individual Private Investigator Licensing
Indeed, "10 Types of Detectives (With Salaries and Job Outlook)"
Indeed, "11 Jobs You Can Get With a Bachelor's in Criminal Justice"
Indeed, 20 Positions You Can Hold with a Master's in Criminal Justice
Indeed, Detective Job Requirements
Payscale, Average Detective Salary
U.S. Bureau of Labor Statistics, Police and Detectives
U.S. Bureau of Labor Statistics, Private Detectives and Investigators