Racial Disparities in Sentencing and Criminal Justice Reform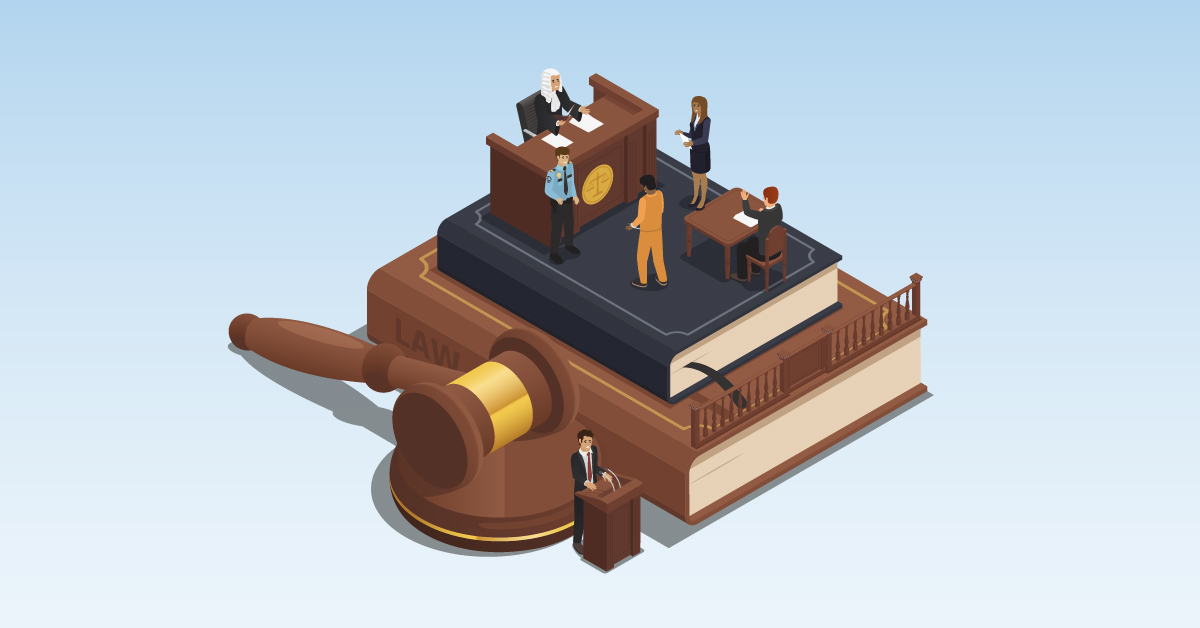 The criminal justice system grew around the start of the 21st century—and the incidence of racial disparities in sentencing increased along with it, according to a 2023 report from The Pew Charitable Trusts.
The nation continues to grapple with those disparities at the local, state and federal levels, even as the U.S. Department of Justice reports that the correctional population declined by 22% from 2011 to 2021.
The 2020 census data found that white people made up nearly 58% of the nation's population. However, a 2021 report from The Sentencing Project provided an example of misalignment between the overall population and the incarcerated population when it comes to race. The organization noted that the state prison incarceration rate for Black people was about five times that of white people. The incarceration rate for Latino people was 1.3 times that of white people.
Overcoming racial disparities in sentencing and incarceration rates requires a deep dive into the scope of the problem and the reasons behind it. It also calls for an exploration of strategies—from the criminal justice system and beyond—to promote equality in sentencing.
Racial Disparity Meaning ¶
First, however, it makes sense to take a closer look at what racial disparity means.
The term "disparity" in this context refers to situations that fail to provide equal or fair opportunities for all. Racial disparity means an instance in which one or more racial groups—typically people of color—regularly experience worse outcomes than other racial groups. It can occur in the criminal justice system, as in the case of racial disparities in sentencing.
Racial disparity can exist in other areas as well, with some populations typically having fewer opportunities than others in:
Housing
Health care
Transportation
Housing
Wealth
Racial disparities can have a negative impact on the physical and mental health of those subjected to unfair treatment, even when the disparities are in areas that aren't directly related to health care. Public health professionals refer to the nonmedical concerns that can affect people's well-being as social determinants of health (SDOH).
Racial Disparity Causes ¶
Long-held beliefs about race among individuals and society shaped many practices, policies, and institutions that, over a period of centuries, created significant racial disparities in this nation.
Behaviors rooted in racism predate the establishment of the United States, with negative attitudes about people of color contributing to attacks against Native Americans and reliance on enslaved Black people, for example. While many of the laws and policies that allowed—or even promoted—the unfair treatment of people of some races and ethnicities no longer exist, many of the inequities they promoted remain.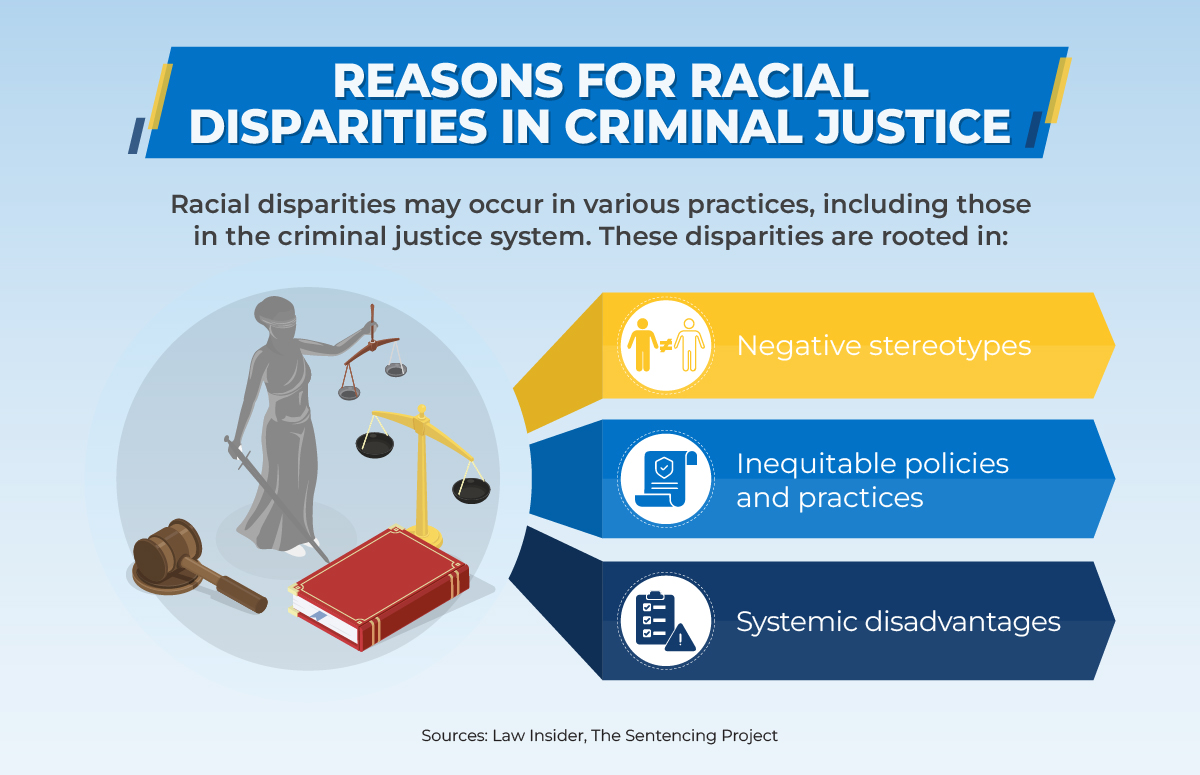 Racial disparities may occur in various practices, including those in the criminal justice system. These disparities are rooted in negative stereotypes, inequitable policies and practices and systemic disadvantages.
Racial Disparities in Prison Populations ¶
The inequitable treatment of people based on their race continues to be a problem in the criminal justice system. This system includes procedures and agencies whose focus is controlling crime and punishing those who commit it.
Jails typically are locally operated facilities for people charged with minor crimes or awaiting trial. Prisons usually are state or federal facilities for those found guilty of more serious crimes. The populations in both places illustrate the issue of racial disparities in sentencing in the United States.
Although overall incarceration rates peaked around 2010 in the United States, the nation continues to lead the world in the number of people incarcerated in state prisons, according to the 2021 report from The Sentencing Project that examines racial disparities in prison populations. The report found that 1.2 million people were in state prisons.
However, incarceration rates vary by race, the 2021 report noted, with some state prisons reporting more than nine times as many incarcerated Black people than incarcerated white people.
Causes of Racial Disparities in Prison Populations ¶
Many of the same attitudes and actions regarding people of color that led to disparities in other areas have been a factor in racial disparities in populations of prisons and jails. Below are some factors at the heart of these disparities that affect populations such as Black Americans, Latinos and Native Americans.
Structural Disadvantages ¶
Differences in opportunities available to people of color outside the criminal justice system can set the stage for disparities in rates of criminal behavior, arrest patterns and sentencing. Fewer options for employment, housing and financial prosperity—SDOH factors—are associated with higher rates of incarceration, The Sentencing Project's 2021 report noted. Black Americans, for example, are more likely to live in areas with high crime rates.
Negative Stereotypes ¶
People learn about racial stereotypes from the beliefs that their parents and other influential individuals in their lives pass on to them. Among the dangerous racial stereotypes is the idea that Black men and Latino men are dangerous. These stereotypes are difficult to overcome and can influence a broad range of behaviors—including, in the criminal justice system, police action and prosecutorial decision-making.
Laws and Sentencing ¶
Laws enacted in the 1980s moved away from focusing on all felonies to emphasizing drug and sex offenses. These laws called for greater incarceration rates and longer sentences for drug- and sex-related crime. A 2023 report from The Sentencing Project on reforms in law enforcement practices notes that these changes disproportionately affected the Black population, whose incarceration at federal prisons then rose dramatically.
Consequences of Racial Disparities in Prison Populations ¶
Racial disparities in criminal justice outcomes have consequences that reach beyond the person convicted of the crime and their time in prison. The many consequences of incarceration can affect opportunities ranging from voting rights to employment.
For people of color, incarceration can exacerbate existing disparities in other areas of life—and those outcomes can lead people on a path that makes them more likely to return to prison. Below are some long-term effects that prison time can have on individuals and their loved ones.
Mental Health Conditions ¶
Formerly incarcerated individuals can exhibit a host of mental health issues stemming from their time in prison, such as:
Anxiety—worry so severe it interferes with everyday life
Depression—persistent sadness
Post-traumatic stress disorder—various symptoms experienced after a traumatic event
Post-incarceration syndrome— trauma related to experiences while incarcerated
Substance abuse—excessive use of alcohol or drugs
Reintegration Challenges ¶
After returning home from prison, people often face challenges in getting reacclimated. Among the issues they may grapple with are those related to the following:
Health care. They typically lose their health insurance; this often leads to gaps in medical services, including those to treat mental health issues.
Social network. They're often stigmatized, making it difficult for them to form connections that help them overcome challenges ranging from mental health concerns to job searches.
Job search. They may find that they lack the skills or transportation required to find work.
Family Concerns ¶
Formerly incarcerated people may struggle to reconnect with their loved ones. Some may have lost contact with their family and, in some cases. may have lost custody of their children. Others may have problems fitting into the new dynamic of life with their family.
Additionally, formerly incarcerated people aren't the only ones who face challenges. From health concerns to financial strain, their family often experiences negative effects as well.
Facts About Racial Disparities in Sentencing ¶
Evidence suggests that racial disparities in sentencing play a role in the higher incarceration rates of nonwhite populations. The use of sentencing enhancements and federal drug sentencing are examples of how sentencing contributes to disparities in prison populations, according to a report from the National Conference of State Legislatures. The scope of the problem of racial disparities in sentencing is clear in data about prison and jail populations:
A 2023 report on mass incarceration from the Prison Policy Initiative notes that Black Americans make up 38% of those who are incarcerated in the United States. They represent only 12% of the population overall.

The 2021 report from The Sentencing Project noted disparities in sentencing in state prisons nationwide. It also included state-specific findings such as the following:

More than half the state prison population was Black in 12 states:

Alabama
Delaware
Georgia
Illinois
Louisiana
Maryland
Michigan
Mississippi
New Jersey
North Carolina
South Carolina
Virginia

Massachusetts had a Latino-white incarceration ratio of more than 4-to-1 in state prisons. The Black-white incarceration ratio was more than 9-to-1 in seven states:

California
Connecticut
Iowa
Maine
Minnesota
New Jersey
Wisconsin

In a 2022 report about racial disparities in sentencing for the United Nations, the American Civil Liberties Union (ACLU) and The Sentencing Project indicated that 25% of youth arrested in the United States were detained prior to their court hearings. For Black youth, however, 30% were detained.

A 2021 report on life imprisonment from The Sentencing Project indicated that more than two-thirds of those serving life sentences in prison were people of color.

A 2022 report from the Death Penalty Information Center revealed that the Black population was overrepresented on death row relative to their proportion in the general population. Among those awaiting the death penalty in the United States, 41% were Black.

The 2023 study of U.S. jails from The Pew Charitable Trusts shows that in 26% of these facilities, the Black population made up twice as large a share as their population in the community. In 16% of local jails, the Black population was three times as large; in 29%, four or more times.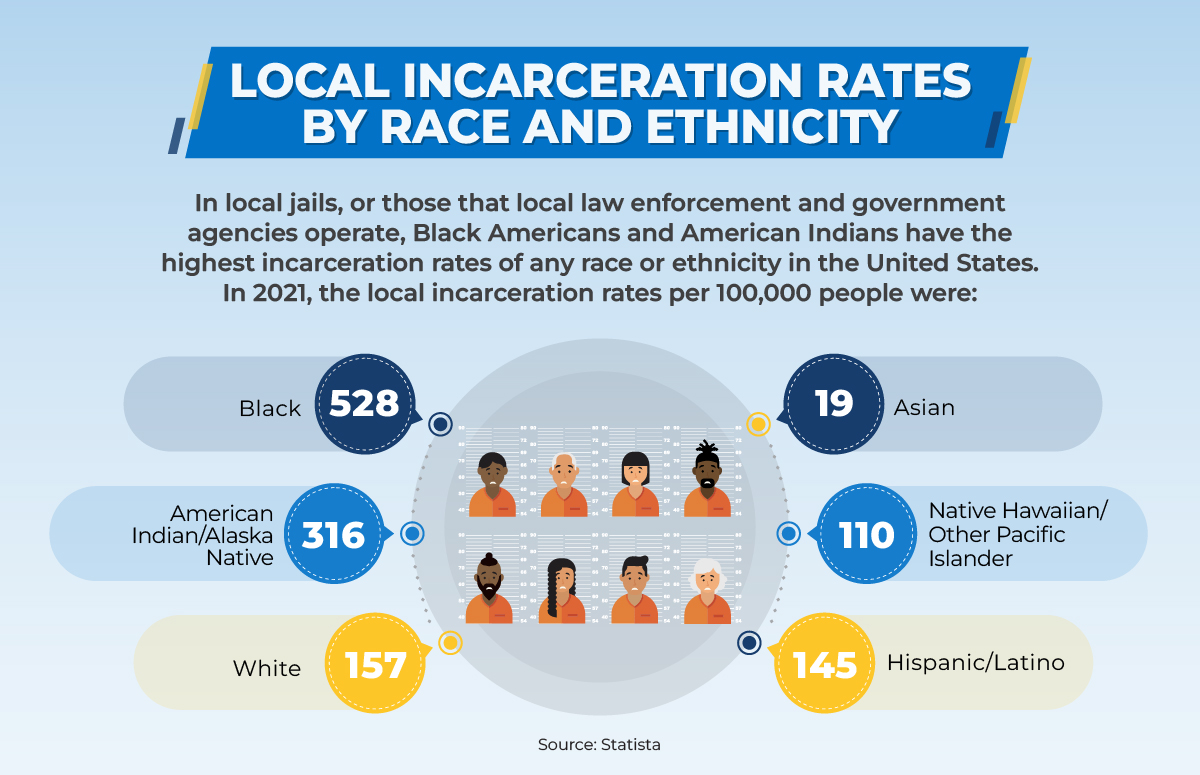 In local jails, those that local law enforcement and government agencies operate, Black Americans and American Indians have the highest incarceration rates of any race or ethnicity in the United States. In 2021, the local incarceration rates per 100,000 people were Black (528), American Indian/Alaska Native (316), White (157), Hispanic Latino (145), Native Hawaiian/Other Pacific Islander (110) and Asian (19), according data from Statista.
A 2022 report from the Council on Criminal Justice revealed that, between 2005 and 2020, the percentages of those serving prison sentences of 10 years or more increased for the white and Black populations. At the same time, the gap between the percentages for the two populations has widened. In 2020, about 18% of newly incarcerated Black people had sentences of 10 or more years, compared with about 13% of incarcerated white people.

A 2021 Prison Policy Initiative report on Native Americans in the criminal justice system indicated that in the previous 10 years, the population of Native American people who are incarcerated had increased by 85%. The researchers noted that this figure didn't include those incarcerated in jails on tribal lands.
How to Reduce Racial Disparities in Sentencing and the Criminal Justice System ¶
Reducing racial disparities in sentencing will require action from those serving in criminal justice fields, with reform advocates suggesting various actions to address the problem.
Strategies in other areas that contribute to the problem of racial disparities in sentencing—those related to education, health and the economy, for example—can also make a difference. From changes to laws to community initiatives, below are some considerations for how to reduce racial disparities in sentencing.
Criminal Justice Reform ¶
The criminal justice system can tackle the issue of racial disparities in sentencing by exploring changes in laws and policies. Below are some of the paths to pursue.
Reconsidering Low-Level Offenses ¶
Punishment for low-level offenses, particularly those that are related to drugs or probation violations, disproportionately affects people of color. Focusing on prevention and drug abuse interventions could help mitigate racial disparities in the criminal justice system, especially in prison populations.
Encouraging Judicial Discretion ¶
Mandatory sentencing can lead to unnecessarily long sentences for those who no longer pose a threat, a practice that disproportionately affects Black and Latino populations. Removing these requirements would give judges greater autonomy in determining sentencing according to the unique circumstances of each case and individual.
Limiting Jail Detention ¶
Another consideration for how to reduce racial disparities in sentencing is to curb the detaining of individuals in jail. This effort could include removing the cash bail policy and holding people only if they pose a serious danger or flight risk.
Reviewing Long Sentences ¶
Another potential path to reduce racial disparities is limiting sentences except in cases in which the incarcerated person poses an obvious threat—and reviewing the current cases of those serving life sentences. When warranted, those deemed to require it could move to confinement that focuses on rehabilitation and, then, reintegration to society. Criminal justice officials could ensure that parole boards comprise only those with backgrounds in corrections, legal issues, social work and psychology.
Rethinking Youth Prosecutions ¶
Prosecuting youth as adults can lead to a disproportionate criminalization of young people of color. To reverse this trend, the criminal justice system could examine changing this practice to address youth criminal justice cases first through practices that do not require incarceration. As needed, those facing charges could then enroll in trauma-focused youth programs.
Evaluating Racial Impact ¶
Just as state and federal governments often develop forecasts of the fiscal or environmental impact of proposed legislation, they can conduct evaluations of the impact that criminal justice legislation is likely to have on different populations. Additionally, evaluating the impact of existing policies and laws and making adjustments to counteract racial disparities could help prevent further damage to people of color.
Community Strategies ¶
Because factors in areas other than criminal justice are also at play in racial disparities in sentencing, community leaders and organizations focused on those concerns can make a difference in addressing the issue. Below are among the strategies that communities can explore to mitigate the structural disadvantages that can lead to criminal justice inequities.
Improving Neighborhoods ¶
Municipal leaders can consider initiatives ranging from funding neighborhood projects to establishing environmental cleanup programs. Additionally, they can finance capital improvements as well as efforts to enhance sanitation and public safety efforts in areas with high rates of poverty and crime.
Expanding Health Care ¶
Improving medical care, including mental health services—and access to them—in communities that face high crime rates can improve their overall well-being and safety. Expanding Medicaid is an example of an approach that could enhance health care availability.
Enhancing Early Education ¶
Communities can examine ways to enhance their investment in high-quality early childhood education. By doing so, according to a 2022 report from the National Academies of Sciences, Engineering, and Medicine, they could help reduce the likelihood that young children get involved in the criminal justice system as they grow older.
Resources: Criminal Justice Reform Organizations ¶
Various organizations are working to reduce racial disparities in sentencing. The following are some of those groups promoting criminal justice reform, with information about the actions they're taking and the resources they provide:
Addressing Racial Disparities in Sentencing ¶
The nation's continuing struggle with racial disparities in sentencing is rooted in a broad range of factors, such as negative stereotypes, structural disadvantages and the shifting focus of criminal justice. Reducing these disparities will require an examination of an equally wide range of issues—from arrest and sentencing practices to community health and well-being.
By taking steps to ensure the equitable treatment of people in the criminal justice system, federal, state and local officials can help prevent the damage that racial disparities in sentencing can cause for individuals, families and communities.
Infographic Sources:
Law Insider, Racial Disparity Definition
Statista, Jail Incarceration Rate of Confined Inmates in the United States, by Race/Hispanic Origin
The Sentencing Project, "The Color of Justice: Racial and Ethnic Disparity in State Prisons"