Associate of Arts in Alcohol & Substance Abuse Counseling
Illuminate the Goodness Around You
Want to Help People Dealing With Substance Abuse? Hi, Welcome to Hilbert. ¶
Nobody overcomes an addiction alone. Individuals who suffer from any kind of substance abuse need highly trained, compassionate counselors who can guide them through their recovery process with a gentle hand. With Hilbert College Global's online Associate of Arts in Alcohol and Substance Abuse Counseling, you'll develop an empathetic mindset and learn the research-backed strategies that allow you to help transform the lives of people struggling with substance abuse.
Created to ensure you meet the core competencies outlined by the New York Office of Addiction Services and Supports, our AA in Alcohol and Substance Abuse Counseling merges classroom lectures and hands-on internship experiences to prepare you for entry-level careers in substance abuse counseling. Our diverse, field-experienced faculty will work directly with you throughout the program and ensure you get the most out of your classroom and internship assignments. You'll even earn up to 1,000 hours toward the 6,000-hour requirement to become a certified alcohol and substance abuse counselor.
Are you ready to get the education you need to make a difference in people's lives? Say hi to Hilbert.
See Where an AA in Alcohol & Substance Abuse Counseling Can Take You
The online AA in Alcohol and Substance Abuse Counseling is designed to meet the specific career needs for substance abuse counselors, as outlined by the state of New York. Throughout your studies, you'll learn soft skills like writing, research and social-emotional analysis while also developing a mastery of:
Substance abuse theory
The impact of psychoactive substances
Trauma-informed prevention strategies
How substance use disorders impact families and special populations
Effective prevention and recovery methods in group and individual settings
The relationships between substance use and mental health disorders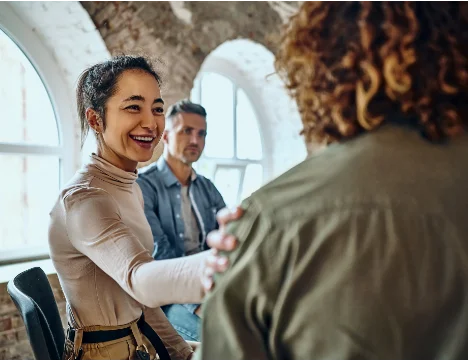 Carve Your Career Path
The online AA in Alcohol and Substance Abuse Counseling will prepare you for a variety of entry-level careers in the field of substance use prevention and recovery. With your newly developed skills, you can pursue careers like*:
Community Health Worker
Media Annual Salary: $47,780
Rehabilitation Counselor
Media Annual Salary: $38,560
Health Education Specialist
Media Annual Salary: $48,860
Substance Abuse Counselor
Media Annual Salary: $48,520
*Salary information provided by the U.S. Bureau of Labor Statistics.

Curriculum & Courses
Required Courses in Major (14 Courses, 42 Credit Hours) ¶
BI 114 The Human Body (3 credits)
HS 101 Introduction to Human Services (3 credits)
HS 102 Introduction to Chemical Dependency (3 credits)
HS 103 Introduction to Psychopharmacology (3 credits)
HS 201 Prevention and Treatment (3 credits)
HS 202 Trauma and Addiction (3 credits)
HS 207 Family Systems in Addiction Treatment (3 credits)
HS 208 Special Populations in Addiction Treatment (3 credits)
HS 209 Group Work in Addiction Treatment (3 credits)
HS 210 Human Services Methods (3 credits)
HS 310 Human Services Ethics (3 credits)
HS 314 Understanding Mental Illness Through Film (3 credits)
HS 360 Internship I (3 credits)
PSY 101 Introduction to Psychology (3 credits)
Major Electives (2 Courses, 6 Credit Hours) ¶
Choose two:
HS 203 Introduction to Counseling (3 credits)
HS 204 Basic Interviewing Skills (3 credits)
HS 205 Interpersonal Communication and Effectiveness (3 credits)
HS 215 Social Issues in Addictions (3 credits)
General Education Requirements (2 Courses, 6 Credit Hours) ¶
EN 101 College Writing (3 credits)
GS 101 Foundations Seminar (3 credits)
Specific General Education Core Modules (2 Courses, 6 Credit Hours) ¶
Faculty
Meet the faculty
"Hilbert College Global faculty personalize the course with their flexibility, office hours, personal stories, evidence-based research and professional alumni speakers in the field."
Kerry Quinn,
AA in Alcohol & Substance Abuse Counseling Student
The Cost of an Online AAS in Business Administration
$450 per credit
60 credits
95% of students receive some form of financial aid
At Hilbert College Global, we're committed to making your education affordable and accessible. For a full-time associate degree student on a two-year track, the cost of tuition will be $13,500 per year. However, our transfer-friendly policies and financial aid may significantly reduce the cost of your degree.
Experienced Faculty
As a student in the AA in Alcohol and Substance Abuse program, you'll learn from a diverse pool of faculty members who leverage their firsthand experiences in substance abuse counseling to enrich your education.
High ROI
Hilbert was ranked in the top 25% in the nation for return on investment by Georgetown University's Center on Education and the Workforce.
Inclusive Community
Our cultural foundation in inclusivity and support creates a welcoming learning community that guides students to become servant leaders.
Partial Certification
Earning your associate degree from Hilbert will give you up to 1,000 hours of credit toward the 6,000-hour requirement to become a certified alcohol and substance abuse counselor.
Flexibility
All courses are asynchronous and last eight weeks, with six convenient start dates throughout the year.
Attentive Faculty
Thanks to a 12:1 student-to-instructor ratio, you'll develop strong relationships with our industry-leading faculty members, who are committed to your success.
The next class start date is approaching. Don't wait to apply!
Get Your Degree While You Work
Flexible scheduling, affordable tuition and accelerated degree programs allow you to balance your personal and professional life while earning your degree.
APPLY NOW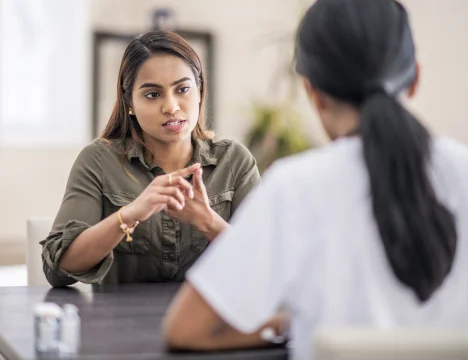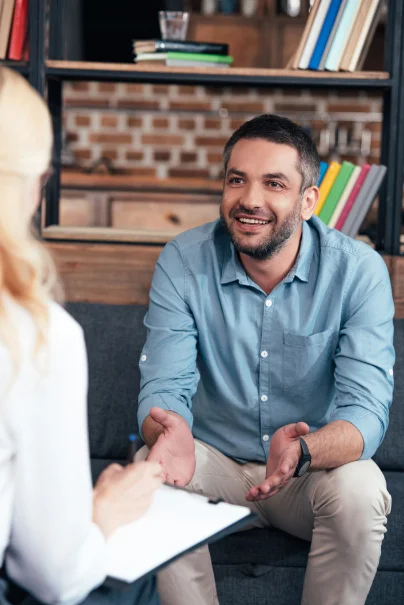 Start Your Journey at Hilbert—Apply Today
Applying to Hilbert College Global is fast, simple and completely free. We're committed to serving transfer students by accepting AP, IB, CLEP and Dantes (DSST) credit. We'll also waive general education requirements for students who have earned at least 60 credit hours through prior education.
To complete your application, take the following steps.
Create an account and set a password.
Provide the required materials in the application portal:

Completed application
Official transcripts from high school and any other collegiate institutions where you've attended
Send transcripts to onlineadmissions@hilbert.edu or by mail to: Online Admissions, Hilbert College Global, 5200 South Park Avenue, Hamburg, New York, 14075

Once we receive your completed application and transcripts, your assigned admissions counselor will connect with you personally to guide you through the remainder of the enrollment process. Have questions or concerns? We're here to help. Contact us at +1 (716) 320-7900 or by email at admissions@online.hilbert.edu.
About Hilbert College
Hilbert College is an independent institution of higher learning that embraces its Franciscan heritage and values. Students from diverse backgrounds learn through liberal arts and professional programs to become informed citizens committed to serving and strengthening their communities.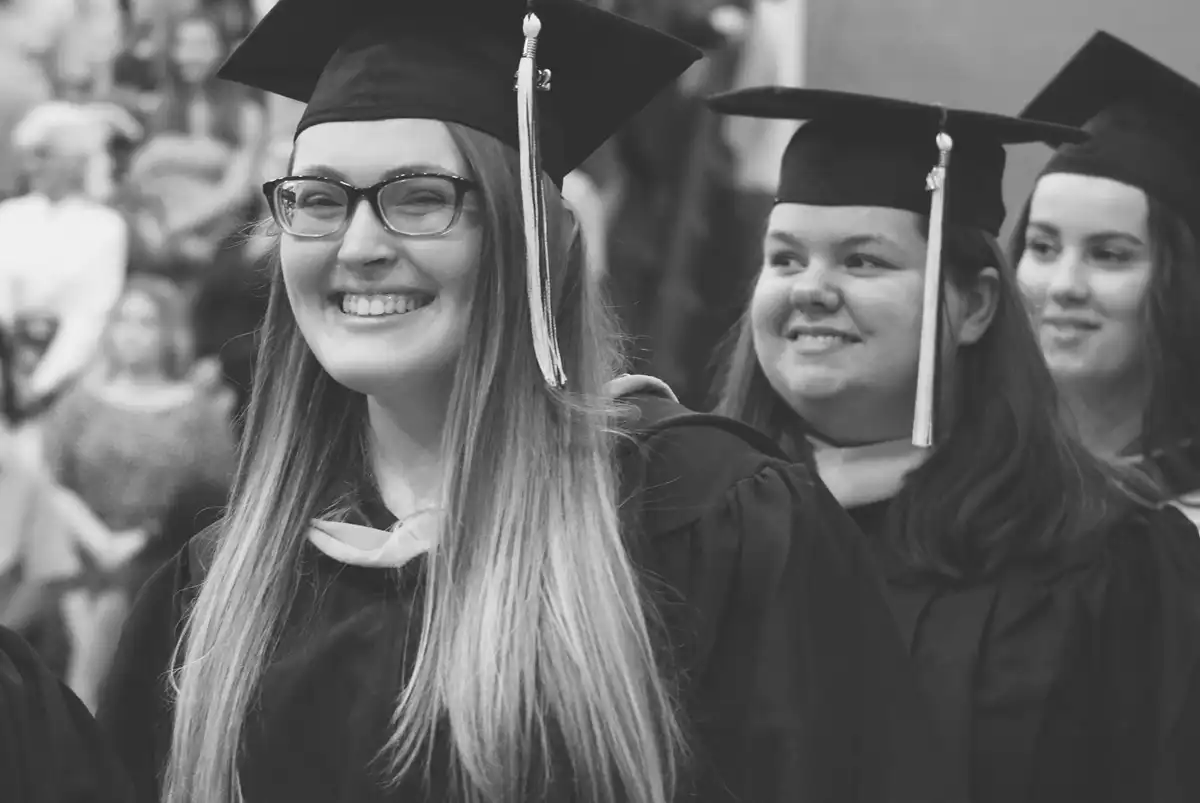 Want to learn more about Hilbert College Global's programs?
Fill out the form below, and an admissions representative will reach out to you via email or phone with more information.
After you have completed the form, you will be automatically redirected to explore more information about Hilbert College Global and your chosen program.
or call +1 (716) 320-7900
By submitting this form, I am providing my digital signature agreeing that Hilbert College Global may email me or contact me regarding educational services by telephone and/or text message utilizing automated technology at the telephone number(s) provided above. I understand this consent is not a condition to attend Hilbert College Global or to purchase any other goods or services.
Thank you for your interest!
Call now to speak with one of our career success advisors.