Clinical Director: Salary and Career Path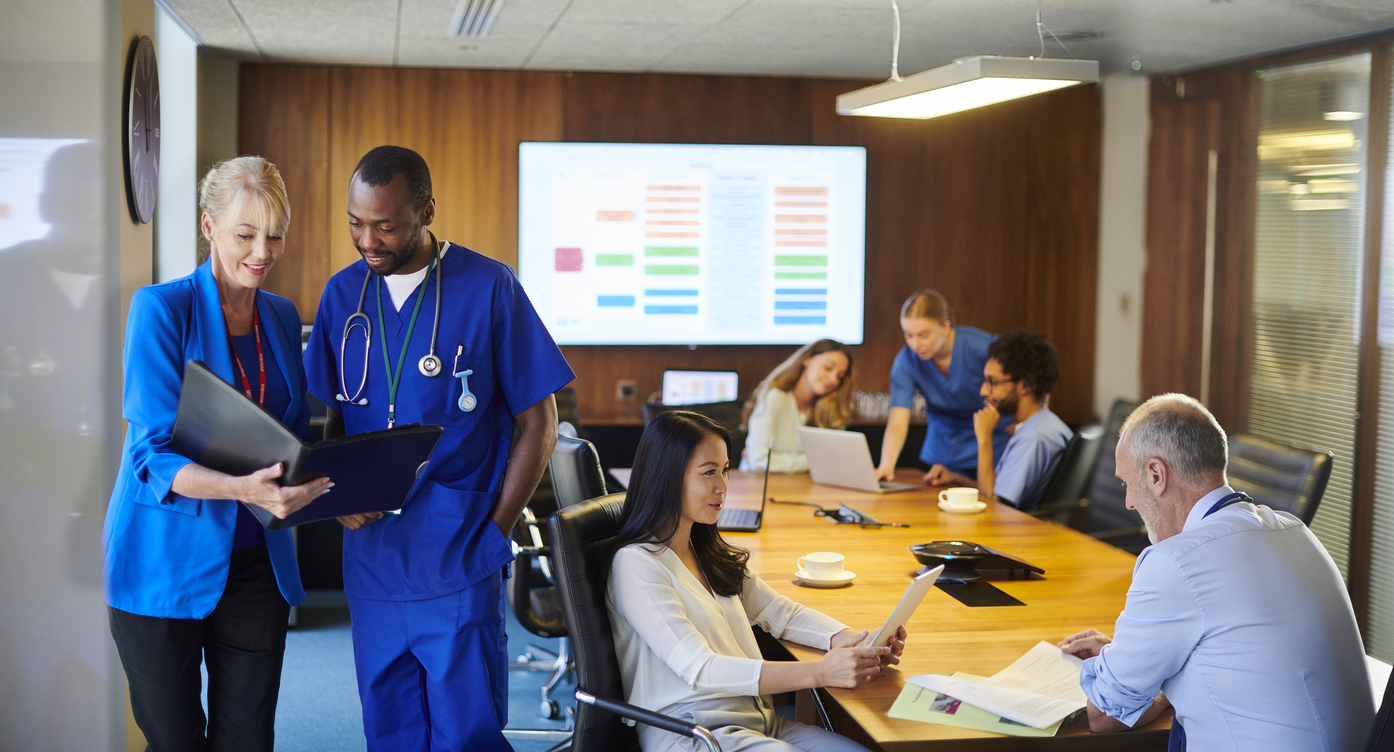 Clinical Director: Salary and Career Path ¶
Hospitals and health care organizations rely on the coordination and cooperation of a team of professionals. Clinical directors are the medical and health services managers who oversee day-to-day operations and ensure the smooth and effective delivery of care to patients.
Whether through the provision of medical care, the support or scheduling of other medical professionals, or oversight of budgetary and administrative concerns, clinical directors provide health care teams with the guidance to provide the best possible patient care.
Through an advanced education, such as a Master of Public Administration in Health Administration, health care professionals can build the knowledge and skills to become effective leaders. With the combination of both an advanced education and workplace experience, graduates can earn a significant clinical director salary while making a positive difference in the lives of others.
What Does a Clinical Director Do? ¶
Clinical directors play a fundamental role in the management and operations of hospitals and other health care facilities. They are charged with administrative tasks, staff supervision and coordination, and in many cases providing care services themselves. Clinical directors and other health services managers ensure care facilities have the infrastructure and personnel to provide patients with the best possible standards of care.
Clinical Director Work Environments ¶
Health care facilities of all sizes benefit from efficient and effective management. From hospitals, universities and research facilities, to private practices, clinics and government agencies, clinical directors oversee the day-to-day operations for a multitude of organizations.
The professional backgrounds of clinical directors may come from a range of areas, reflecting experience as nurses, mental health professionals, physicians, social workers or other medical practitioners and assistants. In their role, directors typically have a strong foundation in the health care industry and may find themselves playing an active role in either small or large organizations.
Clinical Director Job Description ¶
Clinical directors can greatly influence both the success of an organization and patient care outcomes. Tasked with managing a facility's operational activities, care services and the medical professionals who provide them, clinical directors are directly responsible for a facility's overall success as it relates to health care. Because this is a role that affects a facility's bottom line, a clinical director's salary can vary depending on their ability to meet budgetary constraints and the operational success of the facility.
On a day-to-day basis, directors may handle tasks such as:
Hiring, training, scheduling and evaluating staff
Implementing business strategies to reach specific growth targets and goals
Managing budgets
Ensuring compliance with legal policies, regulations and requirements
Overseeing patient care and working toward positive care outcomes
Implementing administrative programs to streamline services
Providing care services to patients
The role a director plays can vary greatly depending on a facility's size. In a smaller organization, directors may continue to deliver clinical care themselves. In a larger facility, the balance of their work may include delegating to a large team and multiple departments.
How to Become a Clinical Director ¶
Earning a role as a clinical director requires both well-rounded foundational experience in the health care field and strong administrative and leadership skills. In many cases, administrators begin their careers as nurses, physicians, or medical assistants before making the transition to a managerial role. For others, pursuing an administrative career is an opportunity to make a positive difference in the health care industry as an executive and manager, without working in a clinical role.
Earn a Degree ¶
Building the knowledge and skills to lead a team of medical professionals begins with earning a degree in health care administration or a related field. Due to the influential nature of health care management and the sought-after clinical director salary associated with it, a bachelor's degree is a minimum requirement, but many organizations prefer an advanced or master's-level education or above.
Depending on the facility, some employers may also require directors to have certifications or licensure. These may include a registered nursing (RN) license, being a licensed clinical social worker (LCSW), or having another certification that pertains to the specific facility and meets state requirements.
Whether transitioning from clinical work or pursuing a managerial role directly, candidates can benefit greatly from earning an advanced degree with a specialization in health care administration.
Gain Work Experience ¶
Work experience is the best way to gain a full understanding of how a medical facility functions. For many health care organizations, hiring a director who is familiar with the programs, procedures, personnel requirements and legal provisions needed to run a facility is an important priority. By building practical work experience, health care administrators can set themselves up for success, developing the expertise to move into a clinical director role with a clear understanding of what is and is not effective management.
Build Relevant Managerial Skills ¶
Becoming an effective leader requires managers to possess multiple skills. Much of health care administration involves handling sensitive information and challenging scenarios. To fulfill the role of a clinical director, professionals must build leadership skills that include:
Written and verbal communication: Clinical directors must be able to interact effectively and compassionately with staff, patients, and in some cases patients' families.
Delegation: Strong leadership entails knowing when and how to entrust tasks to others.
Time management and organization: This involves the ability to evaluate priorities and plan accordingly.
Critical thinking and problem solving: The ability to weigh variables and make informed decisions in an efficient manner is key for all successful clinical directors.
Clinical Director Salary and Job Growth ¶
Many health care careers are on the rise and in demand nationwide. Along with the need for nurses and physicians, there is also a growing need for clinical directors to help steer health care facilities toward success.
Employment of medical and health services managers is projected to increase by 28% between 2021 and 2031, according to the U.S. Bureau of Labor Statistics (BLS). Additionally, the BLS reported a median annual salary of $101,340 for these roles as of May 2021.
Comparatively, the compensation website Payscale reported a median annual salary of around $82,600 in March 2023 for clinical directors, with those at the top end earning a base salary of about $128,000.
With a multitude of facilities employing administrators, a clinical director's salary can vary depending on their level of work experience, education, job location, and an organization's bonus or pay structure.
Explore Your Future as a Clinical Director ¶
Essential to the smooth operation of health care facilities nationwide, clinical directors play a fundamental role in our health care system.
By pursuing an advanced education — such as the online Master of Public Administration in Health Administration from Hilbert College Global — graduates can build the leadership skills to succeed in medical services management. An online program that integrates practical applications with both a research project and a capstone project, the master's from Hilbert College Global is designed to provide students with a well-rounded foundation in health administration.
Discover how you can make a difference in health care leadership as a clinical director.
Sources:
Betterteam, Clinical Director Job Description
Chron., Clinical Director's Job Description & Skills List
Indeed, Clinical Director Job Description: Top Duties and Qualifications
Indeed, How to Become a Clinical Director
Payscale, Average Clinical Director Salary
U.S. Bureau of Labor Statistics, Medical and Health Services Managers