What Can You Do With a Business Management Degree?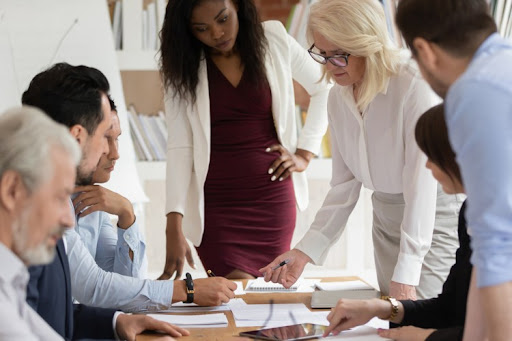 What Can You Do With a Business Management Degree? ¶
Business leaders who serve the greater good get great results. Across the globe, servant leadership is now one of the most popular management styles for empowering teams while improving the bottom line. This trend toward servant leadership and away from more traditional leadership styles is just one example of the continuing evolution of how the world does business.
Business management degree-holders can be influential and trusted leaders in fields they care about. They also can help organizations foster sustainability and social responsibility without shortchanging profitability. Individuals who want to use their business expertise to make a difference can consider advancing their career with a focused education in business management.
Typical Career Fields for Business Management Majors ¶
Leaders equipped with business management expertise benefit industries across the spectrum. Earning a business management degree can open the door to any of a number of career paths.
What can you do with a business management degree? Career fields for aspiring business management professionals to consider include the following:
Accounting
Business administration and management
Entrepreneurship
Finance
Health services administration
Human resources
International business
Management information systems
Marketing
Public administration
Sales
What Jobs Can You Get With a Business Management Degree? ¶
Business management degree-holders ready to advance their careers and become leaders through service have a wealth of possible job roles to choose from. Coursework in a Bachelor of Science in Business Management program teaches key competencies in finance, accounting, business law, marketing and more.
The business management job outlook is bright. The U.S. Bureau of Labor Statistics (BLS) reports that management occupations will grow 8% from 2021 to 2031, faster than the average growth for all occupations. The BLS projects about 883,900 new jobs in business management in the U.S. will result from this increase.
Armed with transformational business knowledge, graduates in business management qualify to serve confidently in personally and professionally rewarding positions. The jobs you can get with a business management degree include the following well-paying and challenging roles.
Advertising, Promotions and Marketing Manager ¶
Advertising, promotions and marketing managers design programs and campaigns to stir up consumer demand for services or products. They may collaborate with art directors, finance staff, sales agents and top executives, often working in advertising agencies or corporate offices.
Key duties of these managers vary but can include the following:
Planning advertising and promotional campaigns
Launching market research studies
Heading creative or media services departments
Evaluating potential markets for products
Developing targeted pricing strategies
In 2021, the median annual salary for advertising, promotions and marketing managers was $133,380, according to the BLS.
Management Analyst ¶
Management analysts apply their business expertise to help organizations streamline operations. Working either as independent consultants or in house, they foster a company's efficiency and effectiveness by accomplishing important tasks such as the following:
Conducting studies and evaluations
Designing systems and procedures
Exploring opportunities to simplify work processes
Creating operations and procedures manuals
In May 2021, the median annual salary for management analysts was $93,000, according to the BLS.
Financial Analyst ¶
The high-stakes role of financial analyst is a prime example of what jobs you can get with a business management degree can contribute to the global economy. Financial analysts help organizations and individual clients make decisions about profitably investing and spending. They evaluate the performance of stocks, bonds and other investment vehicles.
Typical financial analyst duties include the following:
Analyzing an organization's financial statements to assess its value
Recommending individual investments or investment portfolios
Researching business and economic trends
Exploring global investment opportunities
Managing hedge funds or mutual funds
In May 2021, the median annual salary for financial analysts was $95,570, according to the BLS.
Operations Manager ¶
An operations manager's role is to oversee the functioning of the company they serve, handling organizational operations and often supervising multiple locations or departments. With the aim of ensuring the company functions smoothly, they deal with budgets, project delivery, business strategy and more.
An operations manager's typical duties include the following:
Allocating a company's human resources and materials
Managing a company's daily operations
Managing purchases and administrative services
Supervising managers of individual departments in a company
In May 2021, the median annual salary for operations managers was $97,970, according to the BLS.
Sales Manager ¶
A sales manager directs a company's sales team. They often travel for this role, taking responsibility for a group of salespeople, setting performance goals for their teams and developing team members' professional growth through training programs. A sales manager's typical duties include the following:
Assigning sales territories
Setting sales quotas
Preparing budgets
Monitoring customer buying behavior
Analyzing sales numbers
In May 2021, the median annual salary for sales managers was $127,490, according to the BLS.
Business Management Degree Skills ¶
Your impact in the business world is a direct result of the specialized business management skills you bring to your job, so what you can do with a business management degree matters. The following are skills you can develop and apply to any of the jobs you can get with a business management degree.
Organizational Skills ¶
Organizational skills keep business professionals focused and on task. Organized managers can better support workplace processes and procedures, which makes it easier for employees to keep projects on track.
Business leaders need highly developed organizational skills to achieve the following:
Improving time management
Prioritizing tasks
Allocating resources
Delegating tasks
Coordinating team efforts
Networking Skills ¶
Forging connections with other professionals is especially important for global business leaders. Today, networking often happens through social media platforms; however, the tried-and-true methods, such as meeting new people at conferences, remain powerful tools for growing a network of supportive and influential business colleagues.
Benefits of networking in business include:
Nurturing positive relationships with other professionals
Building a strong support system
Improving business growth
Finding new clients
Discovering new employment opportunities
Team-Building Skills ¶
Outstanding business leaders listen to their teams. By valuing each employee, connecting with them and helping them connect with each other, successful managers foster strong and cohesive teams. Team members who feel worthy and recognized tend to collaborate effectively, communicate openly, produce more and perform better. Building strong teams is a powerful way for business leaders to influence their company's culture and motivate their team members to perform at their best, driving successful outcomes.
Benefits of team building include:
Increasing employee engagement
Creating a welcoming work environment
Strengthening bonds between colleagues
Improving employee retention
Encouraging employees to ask for help with decisions
Ethical Decision-Making Skills ¶
In today's business world, ethics are a valued part of business leadership, so individuals with highly developed ethical decision-making skills are in demand for many jobs you can get with a business management degree. A socially responsible business leader conducts business honestly and fairly, with awareness of relevant cultural, economic and environmental issues.
What does ethical decision-making look like in business management? Examples include:
Paying fair wages
Committing to sustainability
Donating a percentage of profits to charity
Investing in employees' continuing education
Supporting diversity, equity and inclusion
Benefits of ethical decision-making include the following:
Building consumer trust
Attracting highly skilled talent
Presenting a positive brand image
Serve as a Confident, Trusted Business Leader ¶
Sought-after business leaders have the in-depth knowledge and focused skills needed to be successful in the global economy. Discover how Hilbert College Global's online Bachelor of Science in Business Management program can empower you with the skills and expertise in business management that can help you advance your career and qualify for significant roles in a number of fields.
At Hilbert, our core Franciscan values inspire students from diverse backgrounds to become informed global citizens who make a difference at home and abroad. Where will Hilbert take you?
Sources:
ASQ, "What Is Social Responsibility?"
The Balance, "What Is Business Planning?"
Business News Daily, "What Team Building Is, and How to Achieve It"
Forbes, "Traditional Leadership vs. Servant Leadership"
Glassdoor, What Does an Operations Manager Do?
Indeed, "8 Crucial Business Management Skills for a Leadership Career"
Indeed, "6 Reasons Why Leaders Need to Be Organised (With Tips)"
Indeed, "10 Types of Business Majors and the Differences Between Them"
Novoresume, "Why Is Networking Important? 5 Benefits and Tips for 2023!"
Skill Success, "8 Examples of Ethical Business Decision"
U.S. Bureau of Labor Statistics, Advertising, Promotions, and Marketing Managers
U.S. Bureau of Labor Statistics, Financial Analysts
U.S. Bureau of Labor Statistics, Management
U.S. Bureau of Labor Statistics, General and Operations Managers
U.S. Bureau of Labor Statistics, Management Analysts