NOC Engineer Job Description and Salary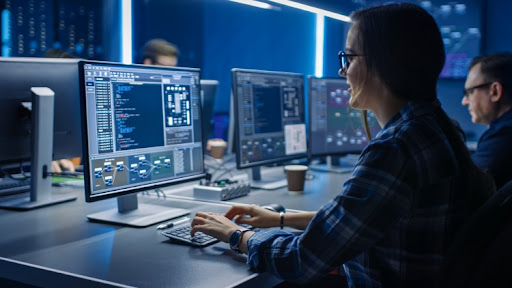 NOC Engineer Job Description and Salary ¶
Network operations center (NOC) engineers play an important role in defending information technology (IT) networks from malicious attacks, monitoring network connectivity and preventing data outages. In an increasingly digital world, protecting data and allowing for instant communication across networks is a key part of doing business, and NOC engineers are hired in a wide range of industries to make sure that information flows securely and efficiently.
The best way to learn the foundations of NOC engineering is with an education that focuses on information security, computer crime and digital forensics. The right skills can lead to a rewarding career in an emerging field.
What Is a NOC Engineer, and What Do They Do? ¶
A NOC engineer is someone who monitors the operation and performance of a large IT network. They monitor and manage a technology's system performance and make sure that the network is operating as it should, noting and reporting unusual events, troubleshooting problems and incidents, communicating with technicians or other responsible parties to fix issues, and tracking repairs to completion.
Settings Where an NOC Engineer Works ¶
NOC engineers work on- and off-site, primarily in the IT industry or in fields where monitoring network traffic is a vital part of the operation. The work can be performed in an operations center where engineers are deployed to perform certain duties or from a remote setting. The cloud computing industry offers a large number of NOC engineering positions, but employment can be found in areas such as:
Network operations (NetOps)
Information security operations
Master control operations
Broadcast media
Global network operations
Both the public and private sectors hire NOC engineers. Governments ranging from local to federal need qualified individuals to handle their network traffic and ensure that users don't experience disruptions in service. The same goes for the private sector, and both sectors offer interesting challenges along with different career paths.
Key Job Responsibilities for a NOC Engineer ¶
The core duties of a NOC engineer involve ensuring that the network is kept in good operating order. They're also called upon to build out and deploy physical IT networks. A NOC engineer's job description can include the following responsibilities:
Overseeing network performance and capacity
Identifying potential network problems and alerting the correct personnel
Diagnosing network errors
Troubleshooting network issues
Tracking and documenting network errors
Creating incident reports
Deploying a physical IT network
Overseeing the installation of network hardware and cabling
Other key duties include reviewing log reports and alerts, monitoring server backups, and making sure that disaster recovery protocols are followed. NOC engineers oversee email hosting, managing internal and external tickets, and configuring hardware. Most NOCs hire multiple engineers with different levels of experience. Entry-level NOC engineers are typically responsible for straightforward and easily accomplished duties as they gain experience. In contrast, senior NOC engineers oversee more complex or sensitive operations and may also take on managerial duties. NOC engineers work in teams to keep watch over a network. They're assigned levels of responsibility, with a Level 1 NOC engineer considered entry level and Level 3 and above considered experienced. Each level of responsibility has duties that include responding to senior staff and monitoring the work of junior engineers. The overall duty of a NOC engineer is to make sure that the core network is stable at all times.
Fundamental Skills for NOC Engineers ¶
NOC engineers are expected to have knowledge of various computer and scripting languages, such as Unix and Linux. They may also be required to have working knowledge of various software suites, including PuTTY, Wireshark, Python, Oracle VM VirtualBox, LogicMonitor and WinSCP. Certifications help NOC engineers improve their skills. A NOC engineer should consider earning as many certifications as possible. Doing so improves their employability and opens up more career paths within the engineering field. The most popular certifications include the following:
Microsoft Certified Technology Specialist (MCTS)
Certified Information Systems Security Professional (CISSP)
Microsoft Certified IT Professional (MCITP)
Microsoft SQL Server
Cisco Career Certification
Cisco Certified Network Associate (CCNA)
Cisco Certified Entry Networking Technician (CCENT)
A NOC engineer can obtain some of these certifications as part of their degree education, but the student has only so much time to learn their core skills and earn certifications. The NOC engineering student can earn these and other certifications after they graduate and have a better idea of their career path. A graduate may decide to specialize in a specific area of network operations that helps them focus on earning the relevant certifications.
NOC Engineer Salary and Job Outlook ¶
The median annual salary for network operations engineers was around $60,000 as of July 2022, according to the compensation website Payscale. Salaries may vary based on location, demand for specific skills, education level and experience. Positions for network and computer systems administrators, including NOC engineers, are expected to grow by 5% between 2020 and 2030, slightly slower than the overall average job growth, according to the U.S. Bureau of Labor Statistics. However, there'll always be a need for qualified individuals to work on IT systems.
Learn More About How a Bachelor of Science in Cybersecurity Can Prepare You for Success in a Career as a NOC Engineer ¶
The Internet is an integral part of society and industry—but it's subject to disruptions, distributed denial-of-service (DDOS) attacks, viruses and equipment breakdowns. Individuals with the right expertise can find a satisfying career preventing these issues from becoming catastrophic for organizations of any size or type. The Hilbert College Global online Bachelor of Science in Cybersecurity offers students a community-driven, career focused education with an eye to the future of network security. Take the first step toward a technology career today.
Sources:
BMC, "What Does a Network Operation Center (NOC) Engineer Do?"
Freelancermap, "What Does a NOC Engineer Do?"
Payscale, Average Network Operations Center (NOC) Engineer Salary
Splunk, What Is a Network Operations Center (NOC)?
U.S. Bureau of Labor Statistics, Network and Computer Systems Administrators