Why Earn a Bachelor's Degree in Cybersecurity?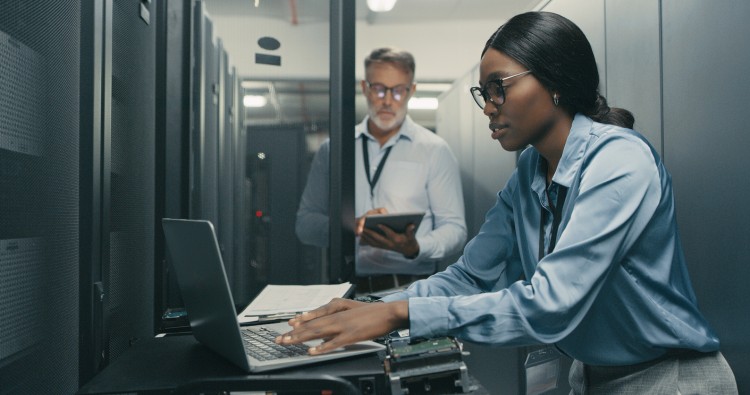 Why Earn a Bachelor's Degree in Cybersecurity? ¶
Individuals who have an interest in technology and want to help people and organizations keep their information secure often pursue a career in cybersecurity. But if you're considering an education in tech, you might be wondering, "What can I do with a cybersecurity degree?" The answer is: There are almost countless different ways to pave a career path with a bachelor's degree in cybersecurity. The field is booming, and students who pursue a cybersecurity degree can gain in-depth skills and qualifications that today's employers seek.
What You Will Learn in a Cybersecurity Bachelor's Program ¶
A four-year cybersecurity bachelor's program can provide you with necessary key skills, such as intrusion detection and security incident response, along with an understanding of the technical and managerial elements of cybersecurity. Coursework leading to a cybersecurity degree includes topics such as computer science, programming, information security, integrated ethics, digital forensics and hardware and software systems, to name a few. Upon graduation, you'll have been exposed to the skills and knowledge to enter the workplace.
Benefits of Earning a Bachelor's Degree in Cybersecurity ¶
Individuals interested in earning a bachelor's degree in cybersecurity will discover numerous benefits, including the following advantages in this rapidly growing field.
Employer Demand ¶
If you're looking for an in-demand career, you'll find it in cybersecurity. Cyber insights company Cybersecurity Ventures announced in a November 2021 press release that cybersecurity jobs grew a whopping 350% between 2013 and 2021. Forecasts suggest even more job openings will be available in the future.
High-Paying Career Options ¶
Due to the ever-increasing demand and ongoing shortage of cybersecurity professionals, it's not surprising many employers are willing to pay for these skills. Professionals who have a bachelor's degree in cybersecurity earned a median annual salary of around $74,000 as of August 2022, according to the compensation website Payscale. Salaries can increase the more skills you fine-tune and gain with experience, often reaching into the six-figure range.
Job Security ¶
Those seeking job security typically find high potential in the cybersecurity niche. In 2021, cybercrime cost the U.S. $6.9 billion, according to the FBI's IC3 division. It's expected cybercrime will cost society trillions of dollars across the globe by 2025. Going forward in combating these and similar threats, both the public and private sectors will seek qualified individuals to fill these much-needed roles.
Exciting Challenges ¶
When it comes to cybersecurity, one thing you will never lack is finding a challenge. Threat actors and malevolent hackers work hard to exploit systems and networks—and threats are continuously evolving. Skilled professionals will need to monitor new threats and uncover ways to combat them, especially with issues such as ransomware on the rise.
What Can You Do With a Cybersecurity Degree? ¶
Earning a cybersecurity degree opens up a range of career options. From managerial and oversight to operational roles, you'll find plenty of opportunities and different types of job prospects to pursue.
Incident Response ¶
Professionals working in incident response roles help organizations recover from cyberattacks and other security breaches. Following specific protocols, these professionals are tasked with investigating breaches and helping organizations follow their set incident response policies. Incident response professionals made an annual median salary of approximately $82,000 in August 2022, according to Payscale.
Security Analyst ¶
Individuals in this role maintain the integrity of company IT, diagnose issues as they emerge and quickly resolve problems. Another aspect of working as a security analyst involves proactively identifying risks and looking for solutions to mitigate them. Security analysts made a median annual salary of around $70,000 as of August 2022, according to Payscale.
Penetration Tester ¶
Penetration testers perform ethical hacking to identify weaknesses in an organization's systems and security protocols. Using a variety of offensive and defensive tools, pen testers help organizations improve their security posture. Payscale reports penetration testers earned a median salary of about $88,000 per year as of July 2022.
Cybercrime and Forensics ¶
When a cyberattack occurs, forensic experts work with law enforcement to document cybercrimes and identify threat actors. They may examine hard drives, analyze user patterns, examine networks and use tools to determine what led to an incident and identify the responsible party. Forensic computer analysts made approximately $75,000 per year as of June 2022, according to Payscale. Other potential cybersecurity roles and career paths include security specialist, malware analyst, data protection, cryptography, compliance and governance, risk management, security architect, security engineer and information security management. Keep in mind that as threats evolve, new niches and exciting job possibilities usually follow; a bachelor's degree in cybersecurity can open many doors.
Discover How a Bachelor's Degree in Cybersecurity Can Jumpstart Your Career ¶
Cyber threats are costly for everyone and put society in a position where everyone's information is consistently at risk. Earning a bachelor's degree in cybersecurity can help you develop advanced technical and analytics skills you'll need to pursue various roles in the field. Hilbert College Global's online degree in cybersecurity prepares you to help society fight the ever-increasing cyber risks today's organizations face. Step into the evolving field of cybersecurity and learn how to get started today.
Sources:
Cybersecurity Ventures, "Cybersecurity Jobs Report: 3.5 Million Openings Through 2025"
FBI, "Internet Crime Report 2021"
Payscale, Average Forensic Computer Analyst Salary
Payscale, Average Penetration Tester Salary
Payscale, Average Security Incident Response Salary
Payscale, Average Security Analyst Salary