Unlocking the Value of a Liberal Arts Education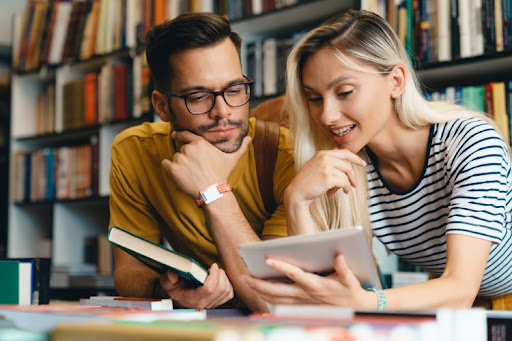 Unlocking the Value of a Liberal Arts Education ¶
Working in rewarding fields as varied as education, health care and business, liberal arts degree holders are dynamic contributors to society. More than 735,000 liberal arts degree holders filled the workforce as of 2019, according to the U.S. Bureau of Labor Statistics. Thanks to the balanced, real-world preparation of a liberal studies degree, they apply critical-thinking, communication and leadership skills across disciplines.
The value of a liberal arts degree means liberal arts graduates are uniquely positioned to innovate and implement meaningful solutions to today's challenges—no matter the industry. Organizations are eager to invest in their talent. Liberal arts degree holders earned $79,250 on average in 2019, according to Data USA, and many of these graduates have meaningful careers that influence their communities.
What Will You Learn in a Liberal Arts Program? ¶
Liberal arts students receive a balanced education that empowers them to be effective communicators, critical thinkers and leaders. Some liberal arts degree programs are built for customization, allowing students to specialize their learning to meet their unique interests and goals and prepare them to enter the workforce.
As part of the value of a liberal arts degree program, students typically learn skills in three primary domains:
Humanities: History, communications, English, foreign language, music and art, philosophy, religious studies, and theater
Natural sciences: Mathematics, biology and chemistry
Social sciences: Economics, human services, political science, psychology and sociology
A major part of what a liberal arts degree is good for is the student's ability to choose areas of study that most interest them. Graduates can come away with a deep and versatile understanding of their desired industries, as well as a plethora of critical-thinking, problem-solving and leadership skills that allow them to stand out from other job applicants.
What Is a Liberal Arts Degree Good For? ¶
A liberal arts degree is ideal for students who want to keep their career options open in an ever-evolving global economy. Let's investigate some of the benefits of a liberal arts degree that give graduates a competitive advantage in the workforce.
Development of Soft Skills ¶
Whether a student wants to break into childhood education or medical sales, they'll need certain soft skills, which are of higher priority to employers than ever before. In fact, 93% of employers want to see soft skills on a resume, according to a report by ZipRecruiter . The value of a liberal arts degree is that it equips aspiring professionals with the insights to be emotionally intelligent and ethical leaders who are adaptive to change. These sorts of competencies never expire, ensuring that their skills are always up to date.
Flexibility ¶
Unlike narrower degrees that prepare students for specific jobs in specific fields, liberal arts graduates have a much broader range of career paths available to them. For example, they could begin their careers as a public relations specialist for a nonprofit organization—and then pivot into human resources or education as their interests shift over time. There's no "right" path for a liberal studies major to take after graduation; it's all about developing a flexible skill set that can be applied across industries.
Long-Term Financial Benefits ¶
A liberal arts degree holds a greater long-term return on investment than most other degree programs, according to Georgetown University's Center on Education and the Workforce (CEW). Over a 40-year time horizon, liberal arts students will have an ROI of $918,000, which is 25% higher than the median ROI for all degrees. This research suggests that, over the long term, liberal arts graduates are better positioned to secure financial stability than the majority of other degree holders.
What Can You Do With a Liberal Arts Degree? ¶
A liberal arts degree can empower graduates to discover a variety of rewarding career paths—even if they haven't decided exactly what they want to do before they finish their programs. Here are some of the top industries for liberal arts degree holders:
Education ¶
The most common career path for liberal studies majors is to become an elementary or middle school teacher, according to the U.S. Bureau of Labor Statistics. Education also offers many other rewarding occupations for liberal studies graduates to consider, including:
Education administrator
Postsecondary teacher
Special education teacher
Health Care ¶
A liberal studies degree can prepare students for graduate study in almost any medical field. However, liberal studies graduates can break into the fast-growing industry of health care with just a bachelor's degree in positions such as:
Community health worker
Medical historian/librarian
Health care administrator
Business ¶
In today's business landscape, liberal arts degree holders are extremely valuable for their communication and leadership skills. Students go on to contribute to organizational success in roles such as:
Project manager
Insurance and technology sales representative
Human resources specialist
Advertising and public relations specialist
Marketing coordinator
Legal Services ¶
While legal services might not be the first field that comes to mind for liberal arts students, many liberal arts degree holders are working in the legal field. With a bachelor's degree, graduates can be qualified for positions such as:
Legal assistant
Paralegal
Compliance officer
Is a Liberal Arts Degree Worth It? ¶
A liberal studies degree isn't for everyone—especially not for individuals who want a highly specialized career path that requires specific hard skills to be successful. However, for individuals who are looking to keep their career options open across a variety of industries, a liberal arts degree is worth it: It can be a powerful step toward a lifetime of personal and professional fulfillment.
Earning an online Bachelor of Science in Liberal Studies from Hilbert College Global can help set you up for long-term success with a customizable curriculum that can be tailored to your unique interests. Learn more about how Hilbert College Global can empower your journey to a meaningful career.
Sources:
CNBC, "93% of Employers Want to See Soft Skills on Your Resume: Here Are 8 of the Most In-Demand Ones"
Data USA, Liberal Arts and Sciences
Georgetown University, ROI of Liberal Arts Colleges
U.S. Bureau of Labor Statistics, Field of Degree: Liberal Arts
ZipRecruiter, "The Class of 2022: The Job Market Outlook for Grads"