Content Strategist: Salary and Job Description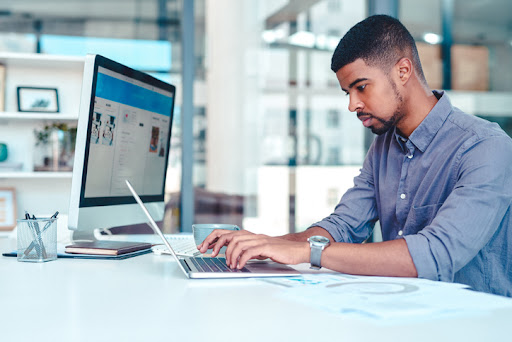 Content Strategist: Salary and Job Description ¶
Creating interesting and valuable content has become a major part of the branding and marketing efforts of organizations across a wide range of industries. Through content marketing, companies seek to position themselves as experts in their industries, highlight proprietary solutions and offer usable information and insights to a variety of stakeholders.
Over half of businesses that generate content for this purpose publish new material daily, but it takes a focused strategy to make these efforts count in the marketplace. Content strategists make sure those investments in content marketing succeed.
The role of the content strategist is key to building a brand identity, generating sales leads, and communicating company news. They align content production with the business's marketing objectives and with available media platforms, which may include company websites, advertising, blogs, social media and more.
Careers in content strategy bring together marketing and storytelling. Content strategists use their analytical skills to assess user demand and market trends. Then they develop engaging, relevant content strategies to stand out in the crowded media and information landscape.
Building the knowledge and skills to become a content strategist can take several years, but a great starting point is to earn a bachelor's degree in digital media and communication. Content strategist salary and job outlook data indicates pursuing a career in content strategy can pay off.
What Does a Content Strategist Do? ¶
An effective content strategy requires several moving pieces. Content writers and editors generate content. SEO specialists research keywords to ensure users can find the content on the web. Designers integrate images, infographics and other visuals into articles and blog posts. Content specialists give the team direction by identifying priorities and strategic goals. Some strategies may also incorporate events, video or other multimedia components.
The primary role of the content strategist is to manage and coordinate these moving pieces in line with the content strategy. They may also analyze data on user engagement, market trends and industry conversions. They identify target audiences and the most effective channels to reach them. Content strategists then update and modify their strategy based on their analysis.
In some roles, content strategists create content themselves for social media, digital platforms and other channels. For example, many content strategists are accomplished writers themselves, and many have experience writing copy for content marketing. Depending on the organization, content strategists might also oversee teams of writers and editors who create content.
Job titles related to the content strategist role include content manager, digital content strategist, and content director.
Content Strategist Job Description ¶
On any given day, a content strategist might review organic data about marketing traffic, meet with editors to update the style guide or update the editorial calendar. Successful content strategists combine big-picture thinking with an attention to detail. These skills help content strategists identify data trends and implement strategic plans.
The content strategist job description includes tasks such as:
Designing content strategies based on an organization's goals and resources
Analyzing current content to identify gaps and areas for improvement
Coordinating with editors, SEO specialists and content writers
Researching target audiences, industry trends and content distribution channels
Creating interactive content and integrating multimedia technology
Careers in content strategy require analytical, project management and creative skills. Many content strategists build these skills during college and in content-related roles.
How to Become a Content Strategist ¶
To become a content strategist, professionals need a degree, work experience and content marketing skills. Many content strategists begin their career path with a degree in communication or a related field. Then, they strengthen their skills and experience by pursuing digital marketing careers in fields such as journalism or copywriting where they can hone their research and writing skills. It can take several years to gain the education, experience and skills required for content strategist roles.
Step 1: Earn a Degree ¶
Most content strategy roles require a bachelor's degree. The most common majors for content strategists include communication, marketing and English. Courses in digital media, data analysis, UX writing and editing can help undergraduates develop needed skills. Pursuing an internship can also strengthen storytelling and creative-thinking skills while offering real-world experience.
Step 2: Gain Work Experience ¶
After earning a bachelor's degree, professionals usually gain experience before moving into strategy and management roles. For example, experience as a multimedia journalist, content writer or SEO specialist can help individuals qualify for content strategist jobs. Experience in editing, UX writing and content marketing also benefit prospective content strategists.
Step 3: Build Content Strategist Skills ¶
To qualify for content strategist jobs, professionals must develop a specific skill set. Content strategists rely on their analytical and planning skills to evaluate data and implement content plans. Experience in project management and brand storytelling would both be useful in developing the collaborative, planning and communications skills to become a content strategist. Other key competencies include multimedia design, user experience design and search engine marketing.
Content Strategist Salary and Job Growth ¶
Content strategists earn an above-average salary. The average content strategist salary exceeded $66,000 in April 2023, according to data from the compensation website Payscale.
Several factors can affect earnings potential. These include the job title, the type of industry, the location of the job and the candidate's experience level. Content strategists with five years of experience reported an average salary of over $72,000, while the most experienced content strategists earned over $104,000 per year.
Demand for content strategists and other media and communication occupations continues to grow. Nearly 116,000 media and communications jobs are projected to be added to the U.S. economy each year from 2021-2031, according to the U.S. Bureau of Labor Statistics (BLS). That translates into 6% job growth.
Launch Your Career in Content Strategy At Hilbert College Global ¶
Content strategists work in a fast-paced, exciting field. If the content strategist job description sounds like a good fit for your interests, consider earning an online Bachelor of Arts in Digital Media and Communication from Hilbert College Global. You'll study multimedia production, media analysis and persuasion, plus complete an internship to gain hands-on experience.
A degree from Hilbert College Global in digital media and communication could be your launching pad to a career in content strategy.
Recommended Readings
How to Become a Graphic Designer
Marketing vs. Communications: Degree Comparison
What Can You Do With a Communications Degree?
Sources:
Ahrefs, "63 Content Marketing Statistics for 2023" Forbes, "What Is The Purpose Of Content Marketing?"
Robert Half, "Content Strategists Are in High Demand"
PayScale, "Average Content Strategist Salary"
U.S. Bureau of Labor Statistics, "Media and Communication Occupations"