8 Digital Marketing Career Paths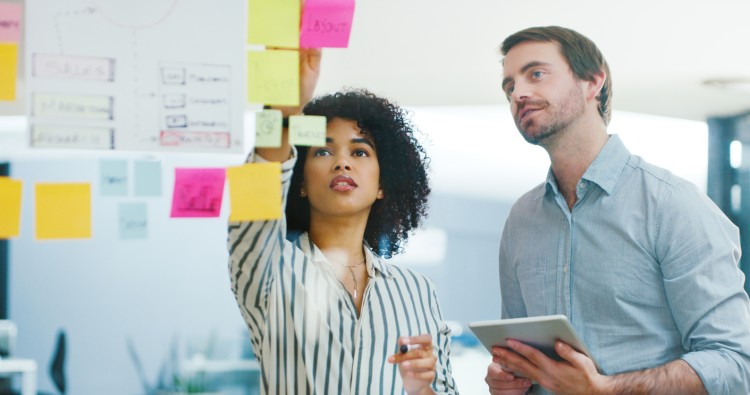 8 Digital Marketing Career Paths ¶
Digital marketing connects prospective customers with businesses in an online environment. It's a career path that involves understanding what drives people to engage with a social media video or why they decide to buy one product over another on an e-commerce website.
Digital marketing entails engaging with customers through a range of channels, including social media, websites and blogs. For companies, digital marketing is critical, as it provides a direct connection to customers who are spending more of their time on social media platforms such as Facebook and TikTok. Consumers engage with videos and websites, and they use their smartphones to research products before they buy.
For all of these reasons, companies need digital marketing professionals with the education and skills to stay on top of trends, develop high-quality content, and create engaging digital marketing campaigns that increase leads and sales. For those who love this area of marketing, it can be a rewarding career field.
Several paths lead to careers in digital marketing, each offering a wide range of opportunities for individuals to use specific skills to achieve a range of goals.
Future Outlook for Digital Marketing ¶
The U.S. Bureau of Labor Statistics (BLS) classifies digital marketing careers under the umbrella of advertising, promotions and marketing managers. The industry as a whole included 347,000 people during 2021. The BLS predicts 10% growth between 2021 and 2031, adding about 33,700 jobs.
Digital marketing is a subsector of the marketing industry and, in some ways, faces different trends compared with the field as a whole. Salesforce's 2020 State of Marketing report polled 8,200 marketers to provide more insight into the future of the industry. It found that 66% of marketers expected to see more revenue growth in 2022 and beyond, and 90% said that the increase is likely in digital engagement. As more people rely on the internet and social media to make buying decisions, video, social media posts, thought leadership and other components of digital marketing are growing in importance.
Digital marketing is constantly evolving. From influencer marketing to content marketing, this fast-moving industry needs skilled professionals who can help companies reach customers. The following roles illustrate just a handful of the digital marketing career paths available today.
Digital Marketing Careers ¶
Digital marketing careers range widely, often focusing on very specific skills and requirements within this larger field. Some people work in careers that encompass more than one of these areas, while others focus more narrowly. Many careers in the field focus on management, technology or creative components. Others involve working hand in hand with companies to develop overall effective marketing campaigns. Some also combine advertising with digital marketing, creating strategies for companies to let customers know about them and their services.
1. Content Strategist ¶
A content strategist is a professional who develops and executes plans for content production. They create a unified message for their organization, ensuring that every touch point and channel of reach receives the same messaging. Content strategists may head up strategies for multiple organizations or work in-house for a single company.
The day-to-day work of a content strategist generally includes meeting with content development teams to discuss current projects and plan future ones. They may work to outline new content that someone else may produce, or they may produce content themselves. They work with others in a company, including social media strategists, designers, marketing professionals and graphic designers who create the various types of content. Because many tasks in this field overlap departments, communication skills are crucial.
Content strategists may also work with clients to understand their products and services so they can develop relevant marketing strategies. They monitor the industry and emerging trends in digital marketing, as a component of their work is to come up with new ways to interact with and engage customers. Their main goal is to understand a product or service, create an effective way of selling that product and develop the content to support that process.
Content Strategist Salary ¶
The median annual salary for content strategists was approximately $63,900 in August 2022, according to Payscale. Many strategists work in offices—within a marketing company, a digital marketing company or a business providing digital marketing services for another company. Some are freelancers.
2. Content Manager ¶
A content manager provides management-level oversight to others working on content development. They often work with creative professionals, freelancers and other digital marketing specialists to create content for websites, blogs, social media and videos. Typically, they maintain creative materials for companies while developing and overseeing the production of marketing campaigns.
Content managers edit content to ensure it fits the tone and appropriate style for the client, subject matter and audience. These rules are often predetermined by content strategists and others working to meet the client's needs.
In some situations, content managers have a staff that helps produce written, video and audio materials. Some work with freelancers and third-party agencies to create the desired outcome. Content managers are often guided by strategists to ensure that produced content matches messaging plans. Some also play a role in establishing schedules for content production and development, ensuring that deadlines are met, and providing oversight on larger projects.
Some content managers work with editors in a variety of aspects, often contributing content, updating goals and managing projects. Some work in smaller organizations, where they focus on the creation of content themselves, whereas in larger organizations, they may have a singular role of managing the production of content through other people.
Content managers may need to do some editing and content creation themselves and should have the skills to produce content across different platforms. They may have supervisors, or they may work directly with clients to provide content to meet marketing objectives.
Content Manager Salary ¶
The median content manager salary was around $61,200 in August 2022, according to Payscale. Pay rates may differ based on the type of organization a person works in, too, as the type of work can change often. Content managers with enhanced skills, such as HTML programming and layout experience, may be able to command higher salaries.
3. SEO Specialist ¶
Search engine optimization (SEO) is the process of using various marketing methods to help a website rank better in search engines. An SEO specialist is a professional who applies those skills to company websites and blogs to help increase traffic. SEO is a wide-encompassing field that often focuses on both technical and organic methods, such as the use of keywords, meta descriptions and analytics.
An SEO specialist's job is to help a company rank highly in search results by using specific keywords that consumers type into search engines to find different products and services. This type of work requires a significant amount of research. SEO specialists will learn a great deal about a company's products and services and may develop buyer personas from that information. They then gather data on what terms consumers use with search engines to find those products and services. Then, they provide guidance and advice on how to develop a website that ranks well. This could include using keywords in various areas of the website, as well as in meta tags, meta descriptions, cross-linking opportunities and videos. They also may develop strategies to address long-tail keywords and local keywords, depending on the specific needs of a business and the marketing campaign's goals.
SEO specialists work with content developers and digital marketing coordinators to provide the data to help companies rank in search engines. Their work does not usually involve the creative components of the process, though some provide those services as well.
SEO Specialist Salary ¶
The median SEO specialist salary was approximately $48,800 in August 2022, according to Payscale.
4. Email Marketing Specialist ¶
An email marketing specialist is a professional with a very specific area of expertise. They create email marketing campaigns to encourage consumers to purchase a product or take some other type of action. Digital marketers work to build email lists of prospective or previous customers. They then produce emails for those customers with the goal of building a brand, selling a product, communicating about a product or otherwise engaging the customer. They create nurturing campaigns that encourage brand building over a period of time.
Email marketing specialists work heavily with written communication. They also use tools including email automation software, newsletter tools and graphic design tools to create visually interesting and high-quality emails that people want to read. Their work is very much sales-oriented, but instead of crafting a traditional sales message, they work to build up the brand's image and gain the trust of customers.
Some of the day-to-day work of an email marketing specialist includes creating email marketing campaigns, designing emails so they're easy to use and mobile friendly, and producing or requesting graphics. They also assemble and purge email lists, and they continue to develop a nurturing campaign over a period of time.
In addition to these services, email marketing specialists use tracking tools and analytics to measure a campaign's success rate. They then make adjustments to their campaigns with the ongoing goal of getting as many people as possible to respond to the email.
Email Marketing Specialist Salary ¶
The median annual email marketing specialist salary was around $57,000 in August 2022, according to Payscale. Some email marketing specialists also provide other digital marketing services and support the research of SEO specialists.
5. Marketing Assistant ¶
A digital marketing assistant is often a junior-level marketer who works within the digital marketing team to provide services as needed. They help with multiple tasks in the field and may also work to support the needs of one professional or another based on timelines and goals.
The duties of a marketing assistant in digital marketing change often. They may fulfill some administrative tasks, such as organizing data or gathering research. They may also handle market research on a product or service to determine a company's competitors or develop target personas for a specific brand. They may update databases to provide information to other members of the marketing team as it becomes available.
In addition to this, many marketing assistants spend a significant amount of time helping with content production. This may include writing content for a company's website or social media accounts and completing revisions. Some also work to develop blog topics or help create content ideas.
Most often, digital marketing assistants support the marketing manager and the rest of the marketing team. They may also execute and then analyze marketing surveys and information. For example, they may analyze the results from a marketing pool they create or from social media campaigns. They often spend time working to meet the team's needs, such as helping with the actual inputting of social media content or answering messages from people on social media. They also tend to work hand in hand with a digital marketing company's clients, which means that good communication and a customer-first mentality are often important.
Marketing Assistant Salary ¶
This area of digital marketing can be a valuable stepping stone to digital marketing roles. The median marketing assistant salary as of August 2022 was approximately $40,000, according to Payscale.
6. Digital Marketing Specialist ¶
A digital marketing specialist designs, creates and delivers various types of digital media to be used in digital marketing campaigns. The goal of the specialist is to determine what type of marketing best suits a company based on factors such as target audience and budget. Specialists in this field become experts in their clients' products and services so they can direct campaigns to sell those products in the most effective way. This tends to involve social media, website development, web advertising, graphics and much more.
Digital marketing specialists have a comprehensive view of the industry. They provide insight and guidance in areas including social media creation, video creation, public relations and press releases, as well as create engaging content for websites and blogs. They may also help to develop presentations, newsletters, email marketing campaigns and brochures.
One of the ways a digital marketing specialist tends to stand out is by providing recommendations to the client and to the rest of the digital marketing team on how to spend its marketing budget. They use a variety of research and analytics to develop this type of insight so that they can offer informed guidance to clients about how to market their products to achieve their online marketing goals. While sales and revenue are important, there are also other components to the process. Digital marketing specialists may work to build brands or fix brand imaging concerns, for example. Their day-to-day tasks will differ based on what campaigns they're developing and whether they're working with one or more companies at a time.
Digital Marketing Specialist Salary ¶
The median annual salary for digital marketing specialist positions in August 2022 was approximately $51,000, according to Payscale. Some specialists may command more pay depending on the types of services they offer.
7. Digital Marketing Manager ¶
A digital marketing manager is a marketing professional who helps to develop, implement and manage digital marketing campaigns for their clients over a period of time. These campaigns typically aim to promote a company—and its products and services—through highly specialized advertising, brand development and content creation. A person in this position usually oversees others who handle the content production for a blog or social media account. They often work with SEO specialists and digital marketing specialists to provide these services.
Digital marketing managers spend much of their time working to build brand awareness for a client. This may include helping to increase traffic to a company's website, support the buyer's journey online and build social media followers. The goal is to increase the company's ability to reach more of its prospective customers in a non-sales manner through engagement opportunities.
As digital marketing managers, people may work with various technologies to help them create content. That may include analytics tools that can offer traffic insights or help with optimizing marketing campaigns. They may use tools to help them create and manage social media campaigns, as well as develop email marketing campaigns.
As a manager, they may oversee those who will be creating the content, such as those creating videos, emails, social media messages, and content for blogs and websites. They often spend time working with clients to ensure that they have a solid understanding of the company's products, brand and goals. This often requires having good leadership and communication skills. They may also need to work well in teams, as most digital marketing campaigns involve services from various professionals.
Digital Marketing Manager Salary ¶
The median annual salary for digital marketing managers was about $69,800 in August 2022, according to Payscale.
8. Digital Marketing Coordinator ¶
A digital marketing coordinator oversees, supports and optimizes digital marketing campaigns. They typically do not create content themselves but oversee the process and may provide direction. The role requires these professionals to have ample skill and insight pertaining to various aspects of digital marketing.
Digital marketing coordinators may help to track campaign progress and successes, or they may help to develop digital marketing materials including social media, email and website content. Coordinators may also work to source images and digital graphics for use within the content. Depending on the organization, digital marketing coordinators may help support a broader scope of marketing initiatives while also helping with product launches. They may help with negotiating sponsorship agreements, editing material for the marketing campaign and optimizing SEO. They may also work to source content for digital platforms. Often, they monitor marketing trends so they can keep other members of the marketing team informed.
Because of the variety of work a digital marketing coordinator may do, they often need a solid understanding of social media, CMS, copywriting and copy editing. They also may need to have strong presentation skills and a good idea of how to use web analytics.
Digital Marketing Coordinator Salary ¶
The median annual salary for digital marketing coordinators was around $44,800 as of August 2022, according to Payscale.
Preparing for a Digital Marketing Career ¶
Preparing for a digital marketing career starts with obtaining the necessary skills. Many of these positions require specific technical expertise and an understanding of the industry as a whole. Key soft skills include sales skills, communication and time management. The best way to learn the combination of skills that a career in digital marketing requires is a specialized degree program. Through coursework, internships and entry-level positions, students can build the foundation for a strong career in digital marketing. The first step for an aspiring digital marketing professional is to find a program that fits their needs.
Hilbert College Global provides a pathway into the field with a wide range of innovative and industry-leading courses in its online Bachelor of Arts in Digital Media & Communication program, with concentrations in Film and Visual Effects, Graphic Design, Integrate Marketing, and Multimedia Journalism. Find out how Hilbert College Global can help you embark on a rewarding career in digital marketing.
Sources:
O*NET OnLine, Market Research Analysts and Marketing Specialists
O*NET OnLine, Search Marketing Strategists
Payscale, Average Content Manager Salary
Payscale, Average Content Strategist Salary
Payscale, Average Digital Marketing Coordinator Salary
Payscale, Average Digital Marketing Manager Salary
Payscale, Average Digital Marketing Specialist Salary
Payscale, Average Marketing Assistant Hourly Pay
Payscale, Average Marketing Specialist With Email Marketing Skills Salary
Payscale, Average Search Engine Optimization (SEO) Specialist Salary
Payscale, Salary for Skill: Email Marketing
Salesforce.com, See the Trends Facing Marketing's From-Anywhere Future
U.S. Bureau of Labor Statistics, Advertising, Promotions, and Marketing Managers
U.S. Bureau of Labor Statistics, Occupational Employment and Wages, May 2021, 11-2021 Marketing Managers
U.S. Bureau of Labor Statistics, Secretaries and Administrative Assistants