Business Management vs. Business Administration: What's the Difference?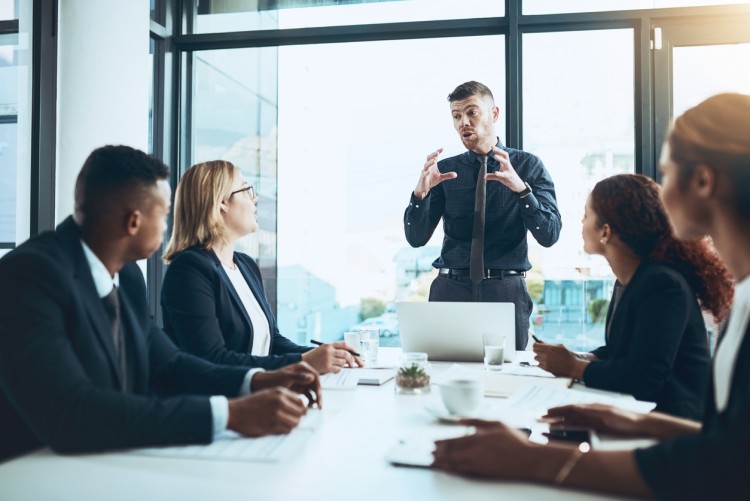 Business Management vs. Business Administration: What's the Difference? ¶
Trying to figure out the difference between a business management and business administration degree can be challenging. Some people use the terms interchangeably, while others insist these business degree types are complete opposites.
The truth is actually somewhere in the middle. The degrees share a common educational foundation, but at a certain point, they diverge and begin to grow in distinct directions.
So, which degree is the right choice for someone with ambitions of being a business leader? To get a sense of the answer, future business students can picture a tree. Is it standing tall and proud all on its own, or is it one of many in a sprawling forest? How someone responds to that question might actually provide valuable insight into whether they're better suited for a degree in business management or business administration.
Business Management vs. Business Administration Program Curriculum ¶
A quick Google search makes it clear: There's a lot of confusion about these two undergraduate business degree types. That's not surprising, given that both degrees share a similar educational foundation.
However, minimizing or overlooking their differences is a recipe for frustration down the road, as reaching the top positions associated with each degree type will likely require a Master of Business Administration (MBA) or Master of Science in Management (MSM). This is where coursework and specializations truly start to diverge.
What Will You Learn in Business Management and Business Administration Programs? ¶
Career Trend notes that, when it comes to some undergraduate courses, it's not a question of business management vs. business administration, as an understanding of business fundamentals is crucial to either career path. Undergraduate students in both disciplines should expect to take courses in marketing, ethics, finance, economics, accounting, and macro- and microeconomics.
What Is the Main Difference Between Business Management and Business Administration Programs? ¶
Undergraduate business administration students should view their general business courses as a way to determine how they'd eventually like to specialize their experience, according to Indeed. Specialties cover many of the core day-to-day functions of a business, including:
Human resources
Marketing
Finance and accounting
Ethics
Project management
Students in a business management program should also expect to take courses focused on core business functionality, like the areas listed above. However, they'll also have courses that help develop leadership skills, like entrepreneurship or change management, or they might even complete an internship.
Some of the key skills a business management program helps develop are:
Communication
Leadership
Budget management
Motivation for employees and staff
Students who make time for events and organizations that put these skills to practical use won't just strengthen their resumes; they'll get critical experience with making decisions and resolving common challenges, which will come in handy with organizations of any size.
Business Management and Business Administration Careers ¶
The U.S. Bureau of Labor Statistics (BLS) estimates that employment in management occupations will grow 8% between 2021 and 2031, which translates to almost 900,000 jobs.
Many entry-level roles will accept either of these business degree types. In some ways, this perpetuates the confusion that these degrees and career paths are the same. On the other hand, it allows applicants who are still early in their careers an important opportunity to learn on the job and perhaps develop in a different direction.
What Can You Do With a Business Management Degree? ¶
Several possible job paths for this degree are listed below, along with summaries and 2021 median pay, according to the BLS.
Marketing Manager ¶
Marketing managers develop marketing plans, manage budgets and optimize channel mix for campaigns, working with sales and product teams to generate campaign and advertisement ideas. They may specialize in a specific set of products within the organization or oversee efforts around the company's entire product line. They may also perform marketing activities for the company itself rather than specific products.
2021 Median Pay: About $133,400
Sales Manager ¶
Sales managers oversee sales teams' activity, help sales team members create and execute strategic and tactical plans, manage sales pipelines, and more. They're often expected to travel and work some evenings and weekends.
2021 Median Pay: About $127,500
Administrative Services and Facilities Manager ¶
Services and facilities managers ensure a business' physical facilities are set up for success. Depending on the organization's size and structure, this can include office setup, maintenance and upkeep; mail distribution; managing records; and ordering supplies.
2021 Median Pay: About $99,300
What Can You Do With a Business Administration Degree? ¶
Several possible job paths for this degree type are listed below, along with their summaries and 2021 median pay, according to the BLS.
Human Resources Manager ¶
Responsibilities for this role can vary widely depending on the size of the organization. Typical duties involve managing payroll and benefits, working with teams to identify and fill talent gaps through hiring, and ensuring the organization complies with any pertinent regulations.
2021 Median Pay: About $126,200
Financial Analyst ¶
Common responsibilities for this role include the assessment of investment performance, identifying opportunities for businesses to invest capital and earn a return, and developing portfolio strategies for clients. In many cases, financial analysts will specialize in a specific industry or geographical region. ** 2021 Median Pay:** About $95,600
Logistics Manager ¶
Logistics managers use technology to track and optimize the movement of products through the supply chain. They cultivate relationships with distributors and suppliers and interact with software unique to this role.
2021 Median Pay: About $77,000
Learn How a Degree in Business Can Help Your Career ¶
Advancing your career doesn't have to be a question of business management vs. business administration. Both degrees can open doors to rewarding roles and challenging opportunities.
The Hilbert College Global community can help get you on the path. We're committed to raising each other up through shared personal and professional growth. Our experienced, industry-savvy faculty members deliver a career-focused curriculum to ensure you're equipped with the skills employers seek.
Take the next step in your business education. Explore our online business management program today.
Sources:
Career Trend, "Definition of Business Study"
Career Trend, "Difference Between Business Administration vs. Business Management"
Houston Chronicle, "Difference Between Business Administration vs. Business Management"
Indeed, "Business Administration: Definition and 27 Career Paths"
Indeed, "Business Administration vs. Business Management: What's the Difference?"
Indeed, "Business Management Skills: Definition and Examples"
Indeed, "FAQ: What Can You Do With a Business Administration Degree?"
Indeed, "What Is Business Administration?"
U.S. Bureau of Labor Statistics, Administrative Services and Facilities Managers
U.S. Bureau of Labor Statistics, Advertising, Promotions, and Marketing Managers
U.S. Bureau of Labor Statistics, Financial Analysts
U.S. Bureau of Labor Statistics, Human Resources Managers
U.S. Bureau of Labor Statistics, Logisticians
U.S. Bureau of Labor Statistics, Management Occupations