How to Become a Graphic Designer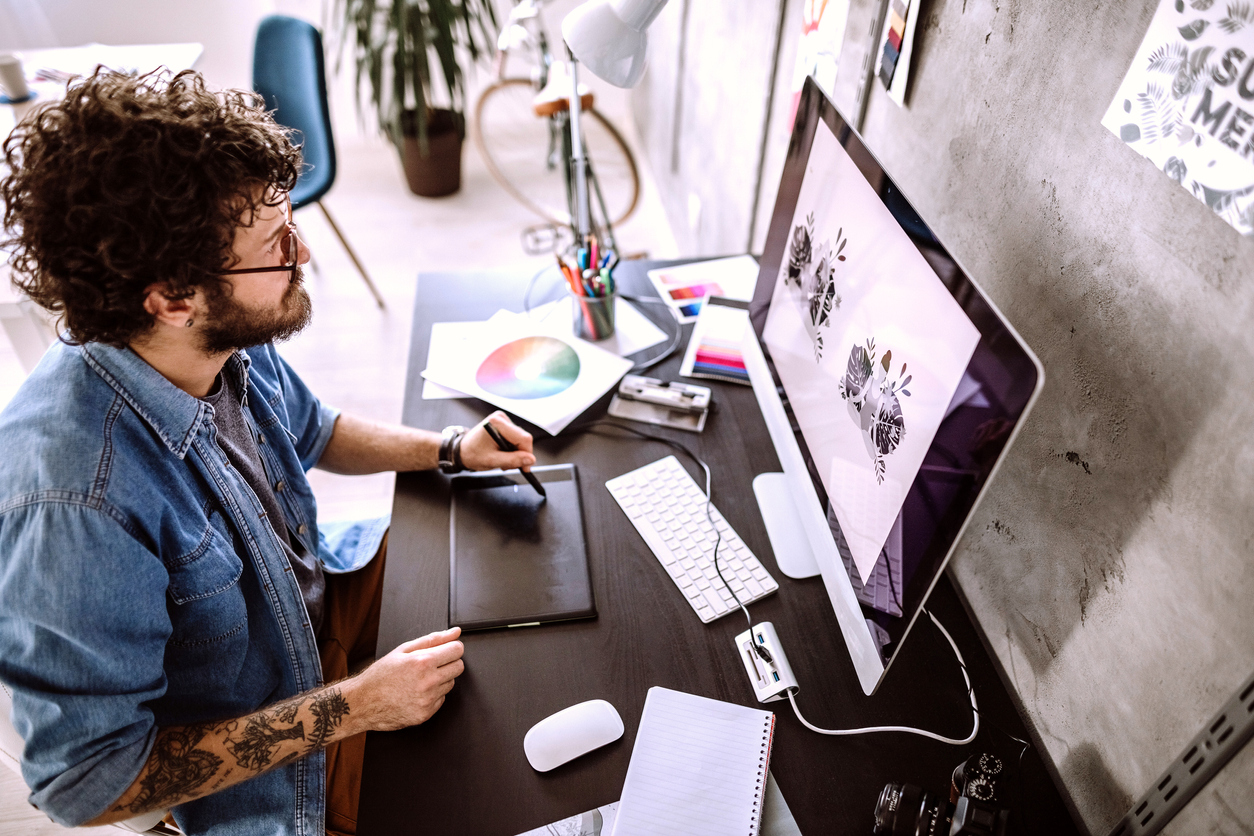 How to Become a Graphic Designer ¶
For individuals with a passion to create, a drive to continue learning and an interest in communications and art, a career as a graphic designer can be a rewarding one. It combines all of these elements while giving individuals the opportunity to be an integral part of a company's success. Anyone interested in how to become a graphic designer should consider earning a degree in digital media and communication, which provides a foundation in the skills that graphic design professionals need.
What Does a Graphic Designer Do? ¶
Graphic designers' specific job duties vary from job to job. For some roles, the main duties focus on creating the visual representations for a brand, which can include designing logos and other branding assets. For other roles, the tasks revolve around designing websites or print and digital publications. Since graphic designers' work is often the first thing customers see, it's fundamental to the process of acquiring and retaining customers.
Depending on their tasks, graphic designers are expected to know how to use certain computer programs—such as Adobe Photoshop or Adobe Illustrator for designing logos, Figma or Adobe XD for web design and Adobe InDesign for print and digital publications.
Steps to Become a Graphic Designer ¶
Now more than ever, getting into graphic design can be easier than many people think. But great designs are carefully crafted with a lot of preplanning and expertise, and no one is born with those abilities. That's why successful graphic designers begin their careers by building a solid foundation of skills.
Generally, the path to becoming a graphic designer is as follows.
1. Earn a Degree ¶
While a bachelor's degree isn't always required for graphic design positions, a good first step to learning the necessary skills to become a graphic designer is to earn a degree. In a digital media and communication program, students learn how to hone their design skills, as well as get plenty of hands-on experience. Courses that may be required to complete a degree program include Introduction to Multimedia Production, The Art of Persuasion, Graphic Design and Web Design. Many programs also offer electives that give students the opportunity to learn about design basics such as color theory, layout and typography.
2. Develop Key Skills ¶
Aspiring graphic designers should aim to develop hard skills in areas such as color theory, typography, drawing and using design software. To succeed as graphic designers, however, students need to also develop soft skills like communication, problem-solving, time management and attention to detail. Creativity is also a key skill students should learn. Rather than being an innate trait, creativity can be learned through constant experimentation and by doing creativity-building exercises.
3. Gain Work Experience ¶
Creating a portfolio of work is an essential part of preparing to land a job as a graphic designer. Many graphic design courses include hands-on training that results in finished design pieces that can be included in students' design portfolios. On top of that, many graphic design professors are professionals with many industry contacts. Making a genuine connection with one or more professors is an excellent way to land internships that can lead to full-time jobs.
4. Earn Certifications ¶
Graphic design is an ever-evolving field. Earning graphic design certifications is a great way to stay on top of industry trends, further develop one's skills, improve one's resume and develop a design portfolio. A number of certificate programs are available to students. Earning a certification also helps develop expertise in a niche such as print or digital advertising, user experience design or company branding. Google, for example, offers a certificate in user experience (UX) design.
5. Continue Professional Development ¶
Becoming a successful graphic designer means being a continuous learner, even after earning a degree. While earning certifications is one valuable way to continue learning, earning a master's degree in graphic design is also an option. Coursework in a bachelor's degree program covers the essential graphic design skills, but many people choose to pursue more education as a way to further hone those skills, stay up to date on industry trends and best practices, and open the door to management roles.
Joining the American Institute for Graphic Arts (AIGA) is another worthwhile way to further develop one's skills. Members become part of a community of fellow designers and get exclusive access to workshops and other professional development courses.
Graphic Designer Salary and Job Growth ¶
Working as a graphic designer can be rewarding in many ways, including financially. The median annual pay for graphic designers was $50,710 in 2021, according to the U.S. Bureau of Labor Statistics (BLS). Actual salaries for graphic designers vary based on several factors, including an individual's education, their experience level, the location of their job and the job's responsibilities.
The BLS predicts 3% job growth for graphic designers between 2021 and 2031. While that is slower than the projected growth for the labor market as a whole, the BLS does estimate an average of 24,800 openings will be available for graphic designers each year over the decade.
Explore What a BA in Digital Media & Communications Can Do for You ¶
Are you ready to change your future by training to become a graphic designer? Hilbert College Global provides a pathway into the field with a wide range of innovative and industry-leading courses in its online Bachelor of Arts in Digital Media & Communication program. Find out how Hilbert College Global can help you embark on a rewarding career in graphic design.
Recommended Readings
What Is a Multimedia Journalist? Job Description, Skills and Salary
What Can You Do With a Communications Degree?
8 Digital Marketing Career Paths
Sources:
The American Institute for Graphic Arts
Harvard Business Review, "Train Your Brain to Be More Creative"
Indeed, "8 Graphic Design Certifications to Advance Your Career"
Indeed, "10 Essential Computer Graphic Designer Skills"
Indeed, "Graphic Designer Job Description: Top Duties and Qualifications"