Clinical vs. Counseling Psychology: Which Is Right for You?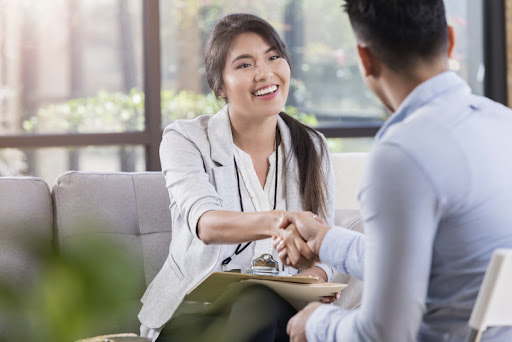 Clinical vs. Counseling Psychology: Which Path Is Right for You? ¶
By supporting patients emotionally, socially and psychologically, mental health care professionals equip them with the tools they need to navigate life's most challenging moments and cultivate a wellness-focused lifestyle.
Earning a degree such as a Bachelor of Arts in Psychology can be a great first step for individuals looking to begin their career as a mental health professional. By taking a close look at clinical vs. counseling psychology, individuals who are passionate about helping others can decide which direction is right for them and begin building the skills and knowledge they'll need to become a mental health leader.
What Is Clinical Psychology? ¶
Clinical psychologists provide comprehensive behavioral and mental health care to individuals suffering from mental health issues. Tasked with assessment, diagnosis, treatment and follow-up care, clinical psychologists are highly skilled professionals who help patients manage stress and mental or behavioral disorders. Treating serious mental illness such as depression, anxiety, neurological conditions and issues related to crisis intervention, the care that clinical psychologists provide can be life-changing.
Clinical psychologists may pursue either clinical or research-focused career opportunities. Working in hospitals, private practices, and research and educational institutions, clinical psychologists often choose to specialize in one area, focusing on psychopathology, learning disabilities, geriatric mental health or another area that applies to a limited population.
What Is Counseling Psychology? ¶
Counseling psychologists assist individuals in navigating relationship problems, growth and development issues, grief and everyday challenges, such as stress. When it comes to clinical vs. counseling psychology, there is quite a bit of overlap in the problems and disorders professionals in each field encounter. But counseling psychologists often manage less severe cases. They focus on providing patients with the tools they need to improve their daily lives, alleviate stress or maladjustments, and create a lifestyle based on habits that promote wellness and balance.
Often working in private practices, clinics and community health centers, counseling psychologists utilize their educational foundation in human behavior to assess and treat patients. Professionals in counseling psychology don't generally specialize and are typically able to assist patients of all ages and from all cultural backgrounds, and may assist patients with or without a mental illness diagnosis.
Clinical vs. Counseling Psychology: Similarities and Differences ¶
Clinical psychology and counseling psychology have many elements in common, from the level of education required in each field, to the mental health problems each focuses on. These similarities can make it difficult for prospective psychologists to decide which path is right for them. By better understanding the type of psychological care they would like to provide, future mental health professionals can begin building toward a fulfilling career in psychology.
Education and Training ¶
Careers in psychology require extensive education and training. Both counseling and clinical psychologists must earn a graduate level degree, such as a master's or doctorate, as well as pursue the exams, licenses and certifications required to practice in their state. Many psychologists must also complete an internship or residency program with supervised clinical hours in order to earn a doctorate and board certification. In total, it can take students eight to 12 years to become fully licensed in their state.
For those passionate about working in a specific area of psychology, whether by becoming an expert on a particular illness or by focusing on issues common to a particular age group, specialized programs are available in clinical psychology. Many graduate degree programs place a heavy emphasis on psychopathology, human development, behavioral psychology and psychological assessments. Preparation in these areas allows graduates to treat serious mental illnesses that may require emergency care or the prescription of psychotropic medication.
Comparatively, an advanced degree program in counseling psychology may focus less on psychopathology and more intently on understanding people's development, cultural background and personality. Counseling psychologists tend to take a more holistic approach to care, focusing on developing knowledge of an individual's past and socioeconomic influences in order to better understand their challenges and provide informed lifestyle solutions.
Skills ¶
Psychologists' work can be challenging, because people who seek mental health care are often confronting a complex array of crises, life circumstances, learned behaviors and stressors. Navigating this complexity with respect is instrumental to success for both clinical and counseling psychologists. While each field has its own specialized methods and required skills, some of the skills common to both are:
Communication ¶
Because communication is the backbone of building trust and providing guidance or education, psychologists must be impeccable communicators when dealing with patients and, often, with their families.
Empathy and Compassion ¶
For many individuals, seeking mental health care is difficult and happens during the most challenging stages of their lives. Psychologists need to be able to meet them with compassion and help them build trust in the mental health care process.
Problem-Solving ¶
Mental health problems do not lend themselves to "one-size-fits-all" solutions. Psychologists must have strong critical thinking skills in order to help their patients solve their problems efficiently and effectively.
Active Listening ¶
Ensuring that individuals feel heard when they seek counseling is essential to not only finding effective solutions, but also to building good working relationships with patients.
Discretion ¶
As professionals in the health care industry, mental health practitioners are both ethically and legally required to protect their patients' medical information.
Career Path ¶
When assessing clinical vs. counseling psychology career paths, the choice between the two ultimately comes down to which type of care an individual would like to provide, which area of psychology they are most interested in and what kind of institution they would like to work for.
After earning a Bachelor of Arts (BA) or Bachelor of Science (BS) in psychology, some prospective psychologists choose to volunteer in different areas prior to specializing, allowing them to decide if they would like to pursue clinical care, work in a hospital setting, have a private practice or work in community outreach.
Typically, clinical psychologists work in either research or in clinical care, basing themselves in hospitals or other medical institutions. Counseling psychologists work in counseling roles or in research, education, administration or policy-based roles.
Clinical and counseling psychologists earned a median annual salary of $82,510 as of May 2021, according to the U.S. Bureau of Labor Statistics. Factors such as level of education, work experience and job location affect an individual psychologist's salary.
Find a Fulfilling Career in Psychology ¶
Mental health care practitioners provide essential, often life-changing services to their patients. Examining clinical vs. counseling psychology is an excellent way to discover how your own skills and goals might best fit into the spectrum of mental health care. Professionals in both of these specializations find fulfilling careers in which they help people navigate the challenges of their lives and become the best versions of themselves.
Pursuing a degree such as Hilbert College Global's online Bachelor of Arts in Psychology might be your first step in joining these mental health professionals. Fostering an inclusive community with an attentive faculty, Hilbert College Global's program was designed to provide students with the tools they need to succeed. Discover how a strong background in psychology can lay the groundwork for your own fulfilling career today.
Recommended Readings
How to Become a Substance Abuse Counselor
Public Speaking Tips, Skills and Exercises
Sources:
American Psychological Association, A Career in Clinical or Counseling Psychology
American Psychological Association, Clinical Psychology
American Psychological Association, Counseling Psychology
Indeed, "Differences in Clinical vs. Counseling Psychology"
U.S. Bureau of Labor Statistics, Clinical and Counseling Psychologists